Using Teachme Biz in the early stages of business expansion in Thailand is a valuable asset. The more quickly we use, the better the results.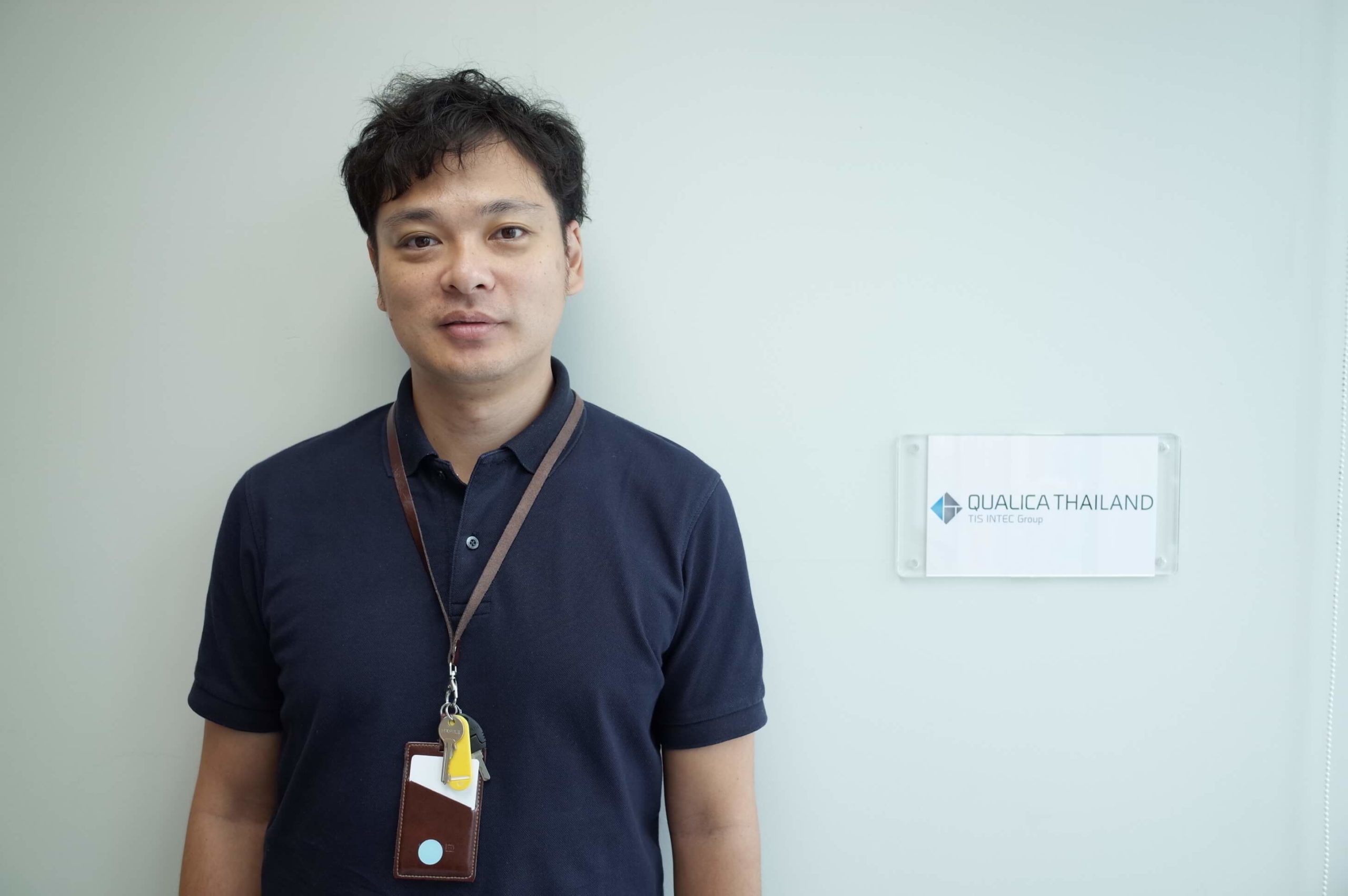 | | |
| --- | --- |
| Introduction Purpose | To visualize the overall internal operations and create a standard effectively |
| Issue | As a result of having no manuals, there were many customer inquiries, and we were unable to ensure consistent work efficiency and quality |
| Result | The number of operation-related inquiries decreased considerably from up to 20 cases per month to 0  |

| | |
| --- | --- |
| Company Profile | QUALICA (THAILAND) CO., LTD. |
| Website | |
| Address | UBC II Building, 20th Floor, 591 Sukhumvit Road., North Klongton, Wattana, Bangkok, 10110 Thailand |
| Staffs | 100 – 1,000 staffs (Including external share) |
| Business type | |
| Details | Providing IT services in Thailand and the ASEAN region |
| Usage method | Back office manual, System / Equipment manual, Online manual for customers |
Providing specialized IT solutions and consulting services in Thailand.
―――
Please tell us about your business.
Our corporate headquarters was established in 1982 in Japan as an information system service company named "Komatsu Software Development Co., Ltd. (now QUALICA Inc.)", wholly owned by Komatsu.
As a member of the TIG (TIS INTEC Group),
we are providing extensive IT Solutions such as IoT, Cloud Service, business system development and software packages for customers in Manufacturing as well as Distribution Service Industry (restaurant and retail).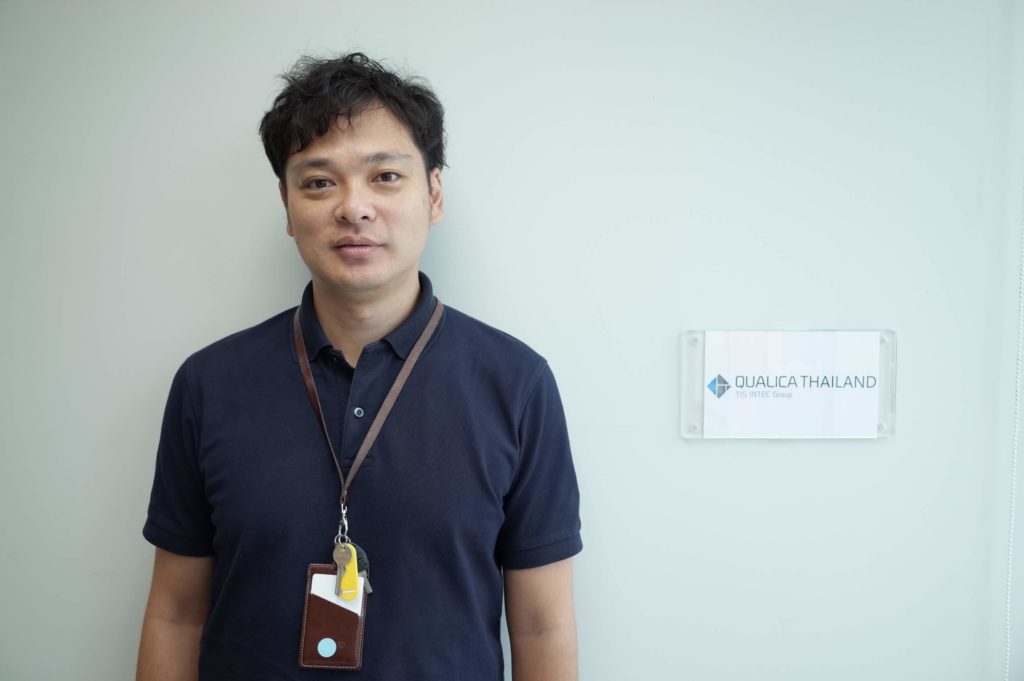 QUALICA (THAILAND) CO., LTD., Managing Director, Mr. Kazuya Takeuchi
―――
Why did you decide to expand your business in Thailand?
The head office in Japan is looking to expand its business globally, which is one of the company's growth strategies. We have established local subsidiaries in Shanghai (China) and Singapore before expanding to Thailand. Since business expansion is the main goal, entering a distinctive economic developing area like Southeast Asian countries (ASEAN Region) is something we cannot avoid to do so.
Based on this point, in August 2018, we decided to open a representative office in Bangkok.

Since the beginning, I came to Thailand as a project leader and started to cooperate with local sales agents while conducting market research and gathering data.

Fortunately, we obtained better feedback than expected. So, in January 2020, we established a branch in Thailand with the aim of providing faster support to customers as well as strengthening our service system.

Currently, we operate with a total of 6 employees, including myself.
―――
Is the product you provide the same as in Japan?
The same point is we provide IT Solutions however, the products are very different. In Japan, we offer a large number of software and systems. But due to the difference in each national characteristics, culture, and market demand, we are unable to do the same way in Thailand. Similar to Shanghai and Singapore,
when we enter the town, we have to follow as they do. Considering the services that locals really demand and more localized solutions

, the Thai corporation is providing five products including "ATOMS QUBE", the cloud-based production management system, which is well-received in Japan, "JSCAST", the casting simulation software, as well as IoT Solutions, manual services, and accounting system. 
Use Teachme Biz since the opening of the branch to improve operational efficiency.
―――
How did you know about Teachme Biz?
When we opened a new branch in Thailand, I got to know Teachme Biz through an SNS advertisement that invited me to participate in the Workshop to learn the fundamental functions of manual creation, management, and the applications of it. From then, I immediately sent our Thai employee to join the activity. At that time, we just started the business and we still had no detailed working rules or working procedures. It was the time that we were looking for ways to create and share them with the Thai employees.
Although the company provides IT Solutions, we chose to hire people with no experience in IT. Since staff would learn the job with flexible attitudes and without being influenced by how they worked in the past, as a result, the company is able to grow fast.
The employee who joined the Workshop could learn the basic operations and understand the system smoothly. Thus, making him/her see the versatility of Teachme Biz, so we decided to adopt the system.
Another reason for the decision is the compatibility of the business development policy and the vision of the executive of Studist (Thailand), the provider of Teachme Biz.
Integrated work contents in Teachme Biz, leading to improved productivity.
―――
What are your usage goals?
We have broadly divided into 3 usage goals. The first one is
to visualize and standardize internal work procedures.

The second one is

to increase the efficiency in creating manuals

. The third one is

to explain the company's services to outsiders in order to deepen their understanding.
―――
How did you actually apply it?
No matter what business you are creating, having "framework" is a must. We use the manuals created by Teachme Biz to create the main framework for

identifying internal procedures such as work rules, internal work process, as well as how to use PCs and printers, then gradually visualizing them.

For some minor jobs that current employees already forgot how to do, the company still faces the same problems with job handover when new employees join in. In this case, you can solve it by sending the URL of the manuals created by Teachme Biz to him/her to follow. There is no need to waste time with each job again. Furthermore, other tasks and customer support are the same. As the manuals are based on images, we do not have to explain things repeatedly and the quality of work has become unity.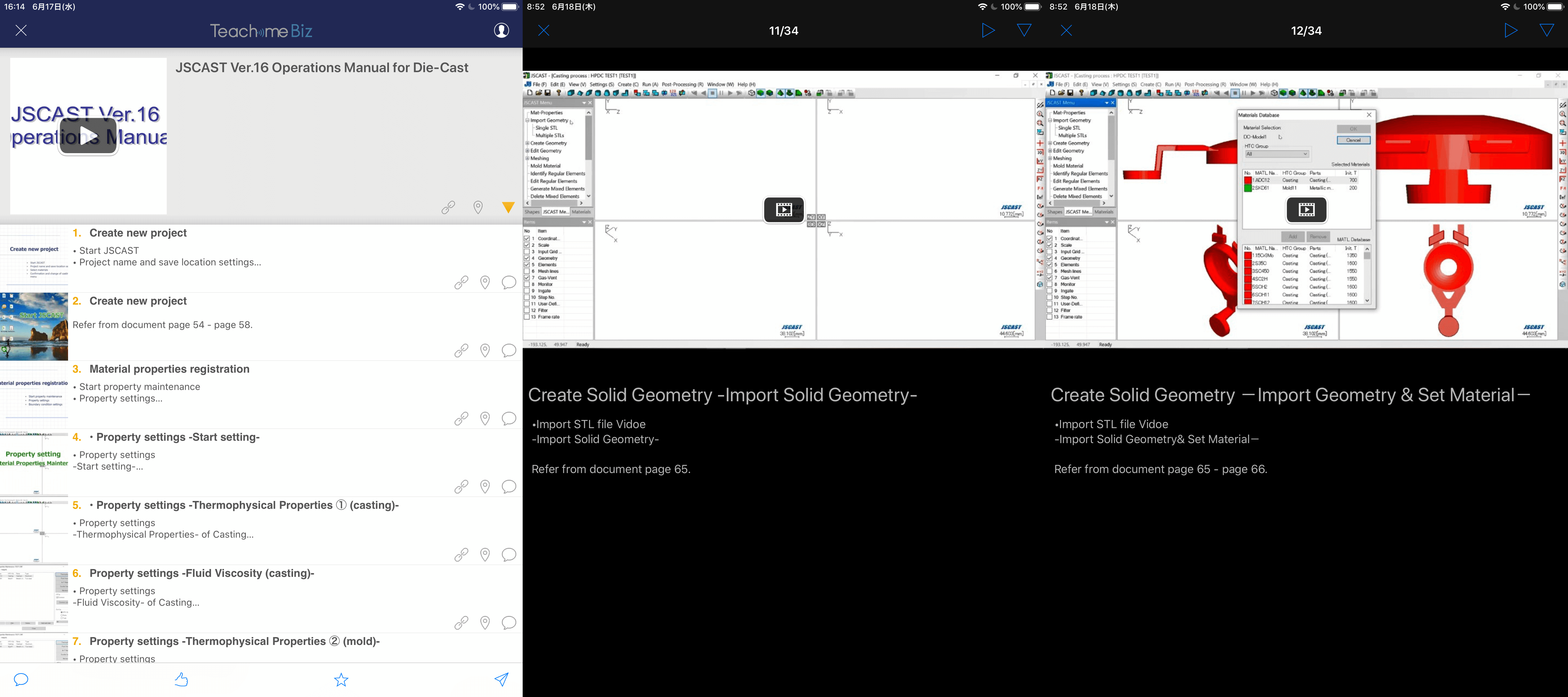 ―――
How do you compare with the traditional way of manual creation?
When working in Japan, I had to create the manuals by myself and travel around to pass them to customers. Even though there are a few images included, if you look at the overall, it is almost full of letters. It is also time-consuming in terms of organizing the format and explaining details that are not related to the actual work… If I think about it right now, it seems like the manual never existed.
Teachme Biz has the design that is easy to read. After that, all you have to do is just enter the texts and images as per requirements. It certainly reduces working hours and also reduces the mental suffering from manual creation.
―――
How was
the feedback from staff?
From the beginning, I left the manual creation to each person in charge, and we were operating Teachme Biz without any trouble. I always give final approval when the manual was first created and leave small updates to the staff.
Moreover, by creating a manual by oneself, we would understand the work and the company's services deeply and be able to think about work procedures from the customer's point of view. In such as way, I feel that somehow, this also helps with the staff training.
<Feedback from Thai employees>
Person in charge: Khun Bo Project Leader 
I am mainly in charge of consulting jobs to solve customer problems. At meetings, the system and software are required to be explained specifically. During that time,

if we had product manuals made with Teachme Biz on hand, we could  immediately show the usage image, or apply pictures of the things taken on-site into a manual

and show it to the customer as a sample. After seeing, the customer would say that it can be "clearly imagined" and "very easy to understand" and sometimes this helps us get a contract on the spot. Likewise, at our company, everyone can learn the operation instantly from the beginning, and

it is also useful for explaining the work to new staff.
Greatly reduces the number of customer inquiries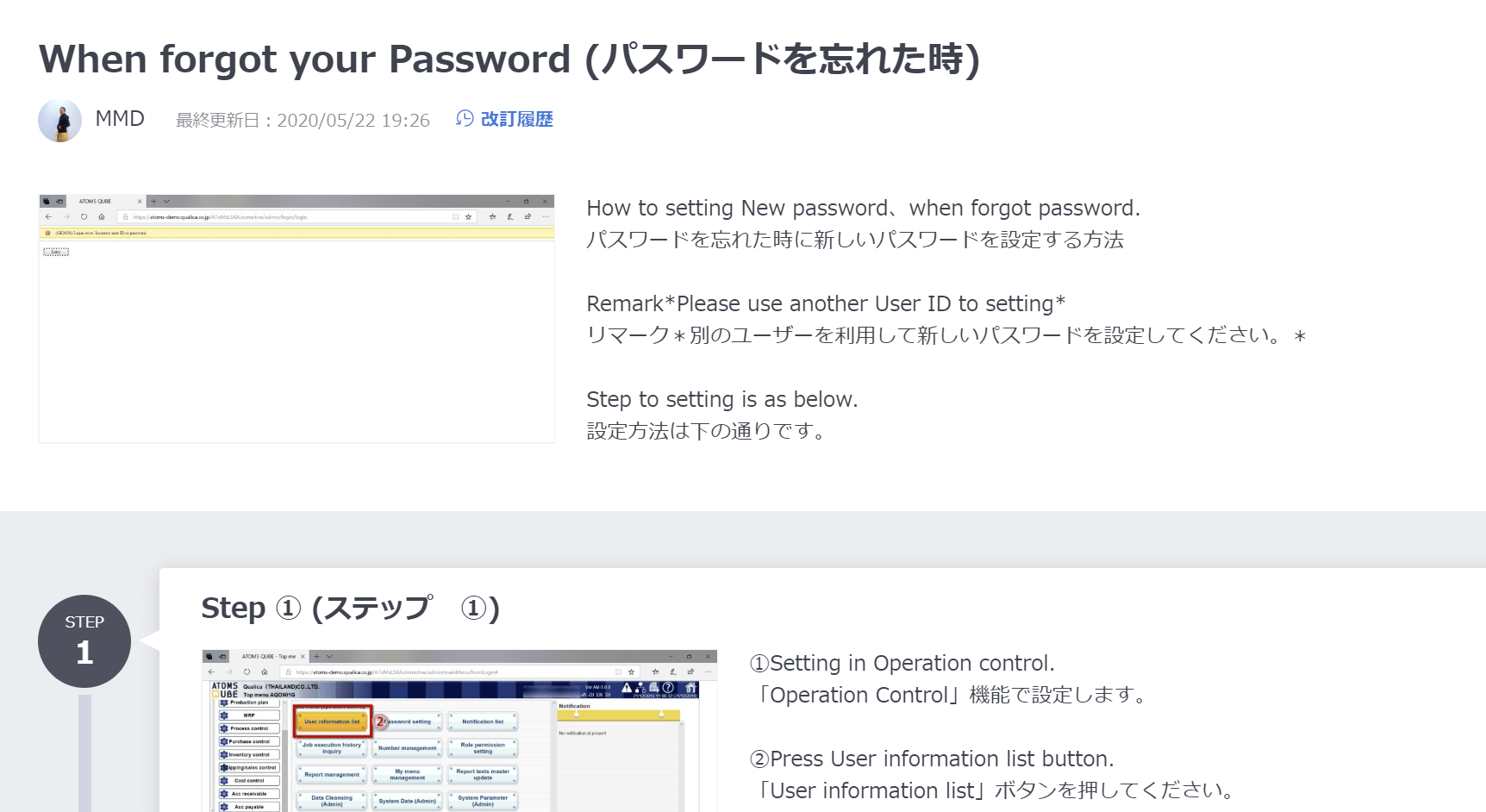 ―――
How do you use it with outsiders?
In addition to how we use manuals to explain our services, we also share customized manuals to each company after the customers start using the service. In the past, text-filled explanations were often overlooked, but by using Teachme Biz, the number of operation inquiries was significantly reduced.
We used to get a maximum of 20 cases per month and sometimes it can be reduced to 0. So, this is the effectiveness of Teachme Biz that I feel. 
As time passes by since we started to use it, I feel the importance of Teachme Biz
and
the accumulation of such know-how has become a big asset for the company.
―――
You can also check the number of manual views
Yes. That is one of my favorite features, especially when the customer starts using our service and uses the manual that we share, we can carefully check the number of manual views accordingly.
If the customer starts using the service for a while but the number of views is still low, we would realize that it might be because "The system is not being used (not functioning well)" or the customer "Continues to work with the wrong operation".

Even if the customer has the system, if it is not being used or does not give effective results due to incorrect operation, it would be useless and the service will be judged based on that, thus leading to contract cancellation. Teachme Biz is one of the indicators to understand our customers better, and it is also a good opportunity to know whether the manuals are difficult to understand or not.
From Teachme Biz "user" to "service provider" 
―――
What is your next plan for using Teachme Biz?
Regarding the use of manuals, on top of internal work and product explanations,

I would like to include my job contents and working roles as a managing director into the manuals.

Although my work does not appear much, if I write it down, there would be many unexpected details. For now, I would like to keep it as an output.
At first, we were Teachme Biz users, but in 2019 we formed a partnership alliance and it became one of the services that we offer.

As I used it, I realized that it has essential functions which are necessary for the business development in Thailand, and I am sure there are more people out there looking for Teachme Biz.

Therefore, I would like to spread Teachme Biz to Thailand as well as the entire ASEAN region by telling stories from my own experience such as specific usage and the results.