Overcome language barriers with Teachme Biz, save 3 million yen per year on training costs!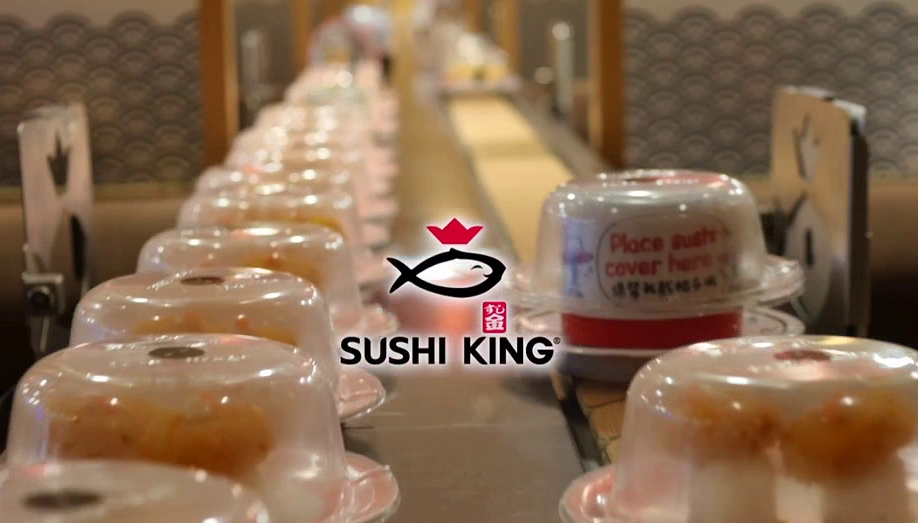 | | |
| --- | --- |
| Introduction Purpose | Standardize skills and save training costs |
| Issue | Difference in service quality, training was a burden |
| Result | Two-way communication created between the headquarter and the site |
| | |
| --- | --- |
| Company Profile | Sushi Kin Sdn Bhd |
| Website | |
| Address | Wisma Texchem, Lot 808 & 809, Jalan Subang 5, Taman Perindustrian Subang, 47610, Subang Jaya, Selangor, Malaysia |
| Staffs | 100 – 1,000 staffs |
| Business type | Food business |
| Details | Conveyor belt sushi restaurant |
| Usage method | Operation and System manual, Branch management guide, Recipe |
Great savings on training costs with paperless manuals
―――

Tell us the background of why you brought in Teachme Biz?
Sushi Kings provides Japanese food services such as conveyor belt Sushi (Kaiten Sushi)  in Malaysia. Since its establishment in 1995, it has steadily expanded its stores and has grown into the largest conveyor belt Sushi chain restaurants in the country. Recently, we have obtained halal certification, which made Malay customers with a conservative food culture visit us more and more.
When we were using paper manuals, we had three major issues. The first one is a problem in standardization. We employ a significant number of staff from outside of Malaysia. In that case, we had a language barrier and training was done by "look and imitate", so trainers needed to visit the stores many times for the training. As a result, the skills and service quality of the new staff varied.
The second issue is we spent so much time on training. Restaurant industry has a high turnover rate, so we always have new staff in the restaurants. We teach, they quit, and then we teach again. It goes on like that repeatedly, so the training consumes a huge amount of time.
The third problem is the lead time for manual distribution. It may be a unique problem only in emerging nations that logistics is not as developed as in Japan, and some of our restaurants are in places where they cannot be reached on land, so sometimes manuals are lost during the delivery. Each time the manuals were updated, it took up to 7 – 10 days.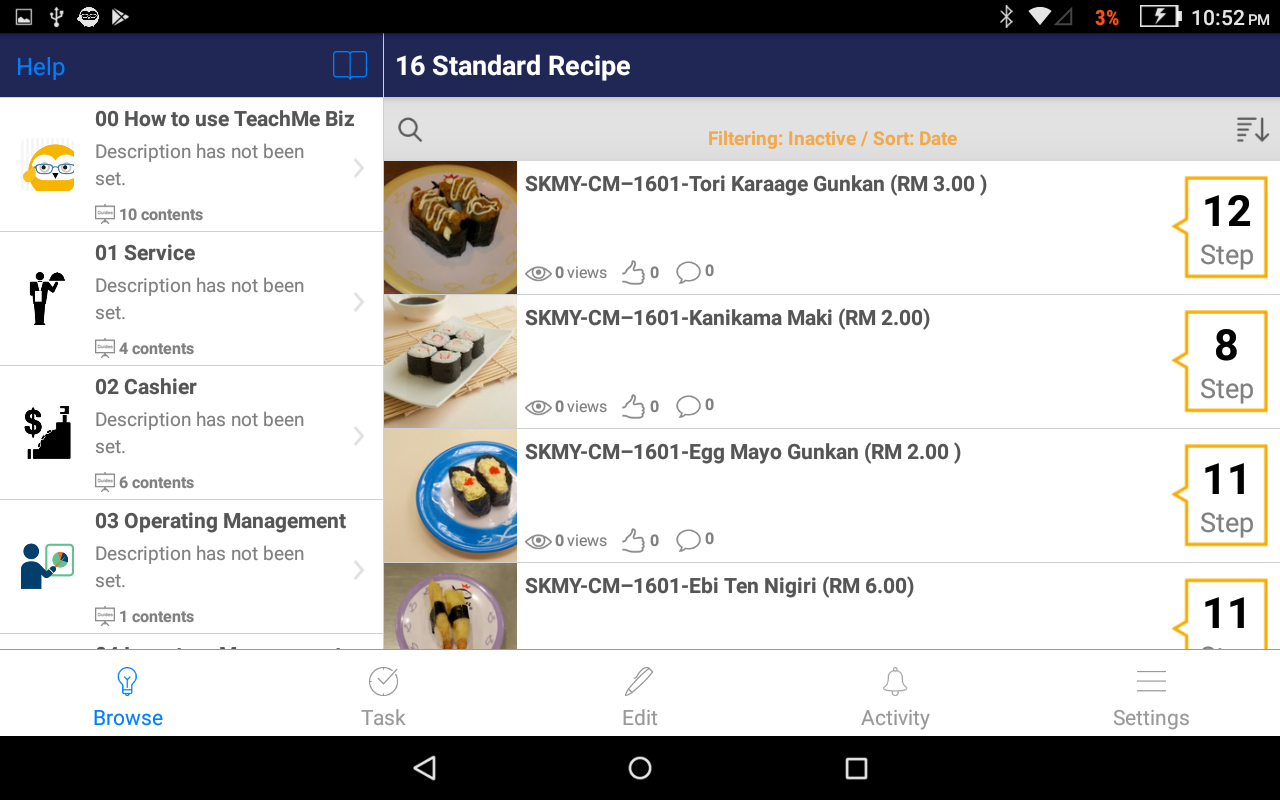 ―――
What made you decide to bring in Teachme Biz?
The biggest reason that made me make up my mind was the expected return on investment (ROI). Manual printing fee alone can cut costs by 85% from 2.5 million yen to 0.3 million yen. Annually, it can save up to 3 million yen, including travel costs for trainers going to restaurants for training and delivery costs for manual distribution. I calculated that even if we had to buy new tablets in order to use Teachme Biz, the return for the investment is still positive. Compared with other companies' over-spec services, only necessary items are put in this package, and the price is reasonable. There was no way we would not go for it.
Making full use of the comment function and evaluation system to create effective manuals for the field!
―――How do you use Teachme Biz?
The contents of the manual are mainly menus and recipes. We turned the existing manuals into slides and made important ones into videos. However, it would be such a waste if we do not use what we have created, so we made sure new staff watch the "New staff training video DAY 1, 2, 3" we made. In addition to managing the training participation, we have established a system that enables cross-checks by conducting quizzes.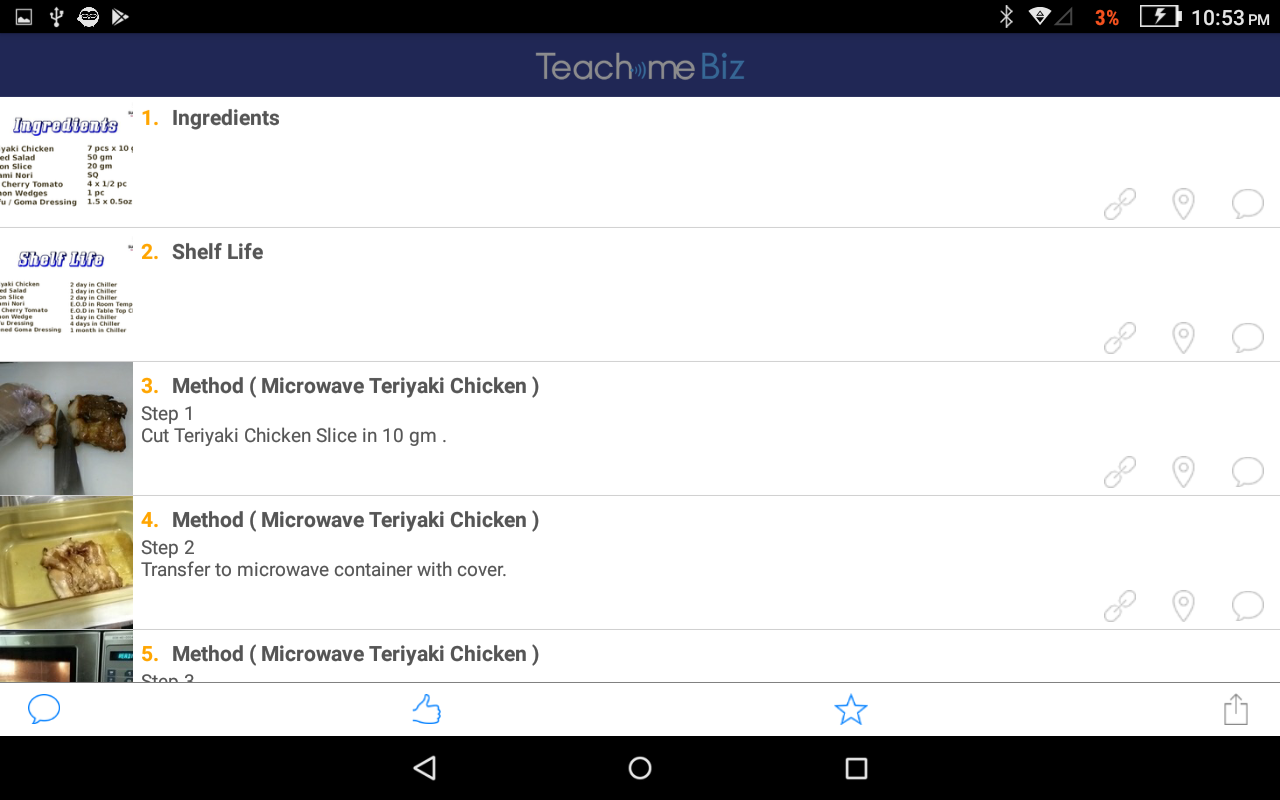 The two-way communication between the headquarters/manager and the site allows us to brush up the manuals. We adopted a structure that staff suggest what kinds of manuals we should have on site, turn it into KPI, and link it to individual performance evaluation.
No more aimless "staring" at manuals! Skills up with just one tap.
―――How is it after bringing in Teachme Biz?
It helps turning long and complicated contents that are hard to explain with words into videos. It surely is innovative. Also, since the completed manuals can be delivered immediately, 7 – 10 days of precious delivery time can be saved.
To improve the standard of staff's skills, it is most important for staff to see the manuals first. Until now, it was like a staring game with manuals, but now with one tap on a tablet, the staff knows what they should do at a glance. It receives great reviews from staff on site as well because it is simple and easy to understand. It is impressive that both parties who create manuals and who review manuals enjoy using Teachme Biz.
Moreover, it helps strengthen the one-way manual making system coming from the headquarters/managers, and creates a system to listen to opinions of operators on site. It gives operators a sense of participation. Another great thing is we were able to raise awareness of two-way communication.
Manuals that overcome language barriers play a big part in business expansion
―――Please tell us how you plan to use it from now.
At the moment, it is mostly used as a tool for sharing manuals, but we plan to develop it as a "prescription" to share the best practice of one store to others for when there is a problem and they do not know what to do. And link this to company standardization.
In addition, by making manuals into videos with Teachme Biz, we can go beyond the language barrier, which is a great advantage in expanding business to other countries. We are actually planning to bring the manuals made in Malaysia to Vietnam and Indonesia as well.
Furthermore, if staff get together to discuss about making manuals actively in the scenes where it does not have anything to do with the evaluation system, then we may be able to build a company culture of staff making manuals with fun. It might be a good idea for the training department to set up a budget, get staff at restaurants to be involved in the Manual Contest.