Teachme Biz provides an experienced trainer as an ideal training.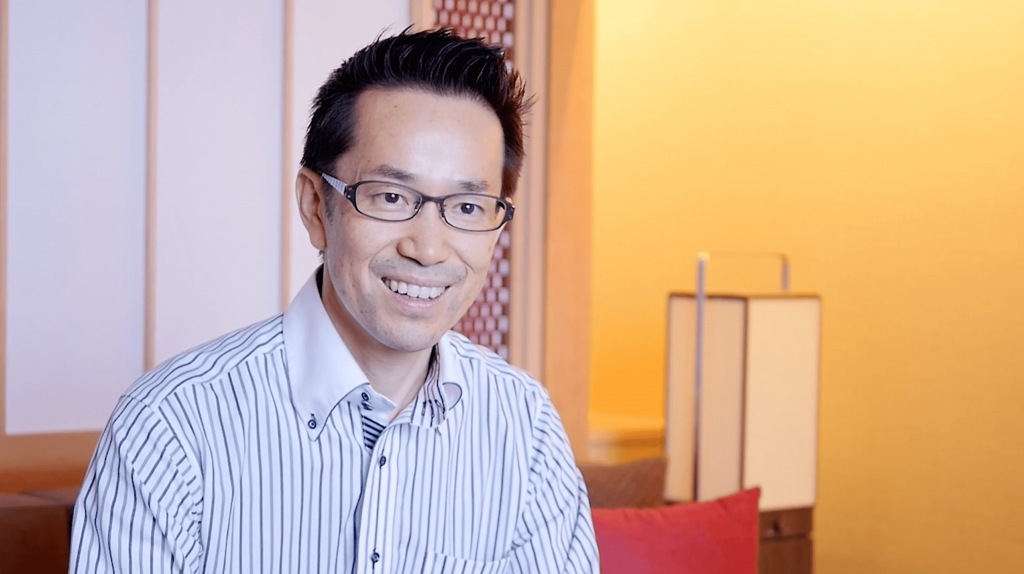 | | |
| --- | --- |
| Introduction Purpose | To improve training efficiency at the opening of the new facilities |
| Issue | Level of learning varies during training |
| Result | Be able to provide consistent and high-quality training as well as reducing individual gaps in learning. |

| | |
| --- | --- |
| Company Profile | Hoshino Resorts Inc. |
| Website | |
| Address | 2148 Nagakura, Oaza, Karuizawa-machi, Kitasaku-gun, Nagano prefecture, Japan |
| Staffs | 50 – 100 staffs |
| Business type | Hotel business |
| Details | Operations and management of lodging facilities |
| Usage method | Customer Service Manual, Facility / Store Operations and Management Manuals |
We aim to improve training efficiency for rapid openings of new facilities
―――What are the reasons behind bringing in Teachme Biz?
We have been actively promoting new openings of lodging facilities in recent years. One of our distinctive aspects in hotel operations is that our employees would not become specialized in particular work such as reception desk or housekeeping. Instead, they would become multi-tasked in every role of the operation. This approach could enhance teamwork as every employee can spontaneously support others with multiple tasks as well as to promote competitiveness among employees. Since new employees are required to learn a lot of things, we found it difficult during training every time we open a new hotel. Primarily, it is essential for us to provide satisfactory service to our customers from the very beginning of the hotel opening, thus we need to train our employees as effectively as possible within a limited period. Typically, one-on-one instruction is necessary for an employee to become completely trained, but that is rather unrealistic. Therefore, we were thinking, 'isn't there a better way for training?'.
We got a hint from a personal training method used among automotive makers. We came to know that manufacturers, which are required to produce high-quality products on a consistent basis are using visual manuals in order to improve training efficiency. Therefore, we decided to replace our training materials with videos. While we were looking for a better tool to facilitate an easy-to-understand structure of manuals, to prevent information leakage etc., we found Teachme Biz.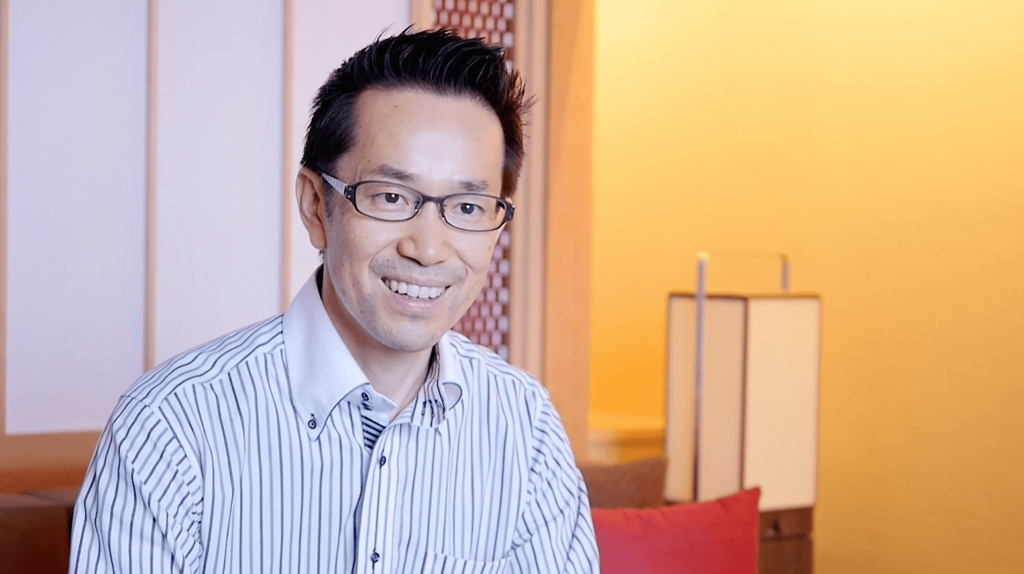 Key reasons for using Teachme Biz were cost-effectiveness and user-friendliness
―――Why did you decide to use Teachme Biz?
First of all, we thought it was cost-effective. Actually, we found other available tools that could create and share video manuals and they were not that expensive to use; however, Teachme Biz was surprisingly cheaper than any of them.
Moreover, the ability of Teachme Biz to show photos and videos in slideshow really matched our use. Ideally, we wished that trainees can train themselves on their own while trainers are absent. That is trainees can train themselves by following the available contents, which can be viewed any time. We felt that Teachme Biz could deliver that, so we decided to bring it in.
―――How do you use Teachme Biz now?
We mainly uploaded a series of videos that last around five minutes, and trainees can be self-trained by watching them in a specified order. We use videos because videos contain detailed information more than still images. For instance, employees can watch the video to see detailed actions of 'how to place a key on the desk'. In the video, the employees can check the gesture from 'how to hold the key' to 'how to place the key'. After bringing in Teachme Biz, trainees were assigned to work in pairs to complete the training by following instructions on tablets. Doing so, now OJT (On Job Training) became almost unnecessary and this is the key advantage. Furthermore, we created a system so that each pair could be trained as planned by distributing a time-schedule to follow.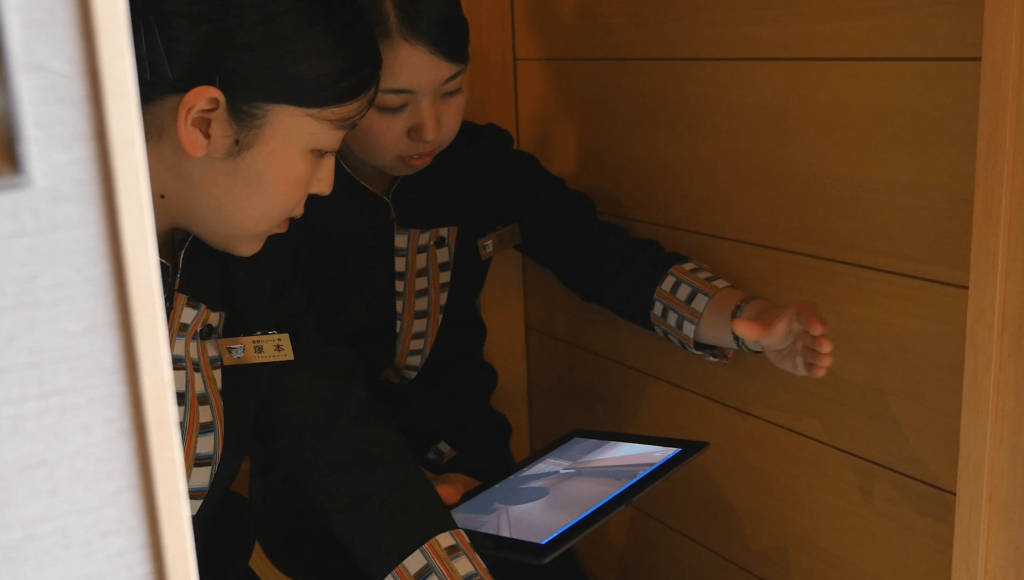 Training efficiency and quality improvement can be achieved at the same time
―――How do you feel about the effectiveness of Teachme Biz?
Even though we only have a small number of trainers, we are still able to conduct consistent and high-quality training. Currently, (as of October 2015), we are conducting a training at "KAI Kaga", with 40 trainees and only 2 trainers, we managed to achieve high duplicability as well as better accuracy of the training. For example, before using Teachme Biz, the time taken for a trainee to clean up guest rooms varied greatly, some trainees would take three times longer than the others. But this time, with Teachme Biz, the gap between them reduced to 1.3 times, meaning that most of the trainees could reach more or less the same level of training at this point.
Before bringing Teachme Biz in, training contents could be varied according to the trainer who gave instructions. With Teachme Biz, there is only one trainer in the tablet, thus all trainees can learn the same materials from the same trainer. Besides, trainees can also watch the videos and learn over and over again. This could be the main reason that helped improve training accuracy. Now, Teachme Biz has become an essential infrastructure for our business, and we could achieve our ideal training just because we found Teachme Biz.
―――Lastly, please tell us about your future plan.
Since our company is opening new hotels at a fast pace and our employees get transferred frequently, we cannot mainly rely on human trainers for training employees. We are aiming to develop a trainer-free learning environment by making video manuals with Teachme Biz for each hotel. In addition, we are trying to improve the contents to be better and easier to understand in order to utilize them widely and effectively among our facilities.
Needless to say, a good customer service requires experience and it cannot be learned only from the visual manuals. Still, basic skills should be learned as effectively as possible in order to ensure customer satisfaction.