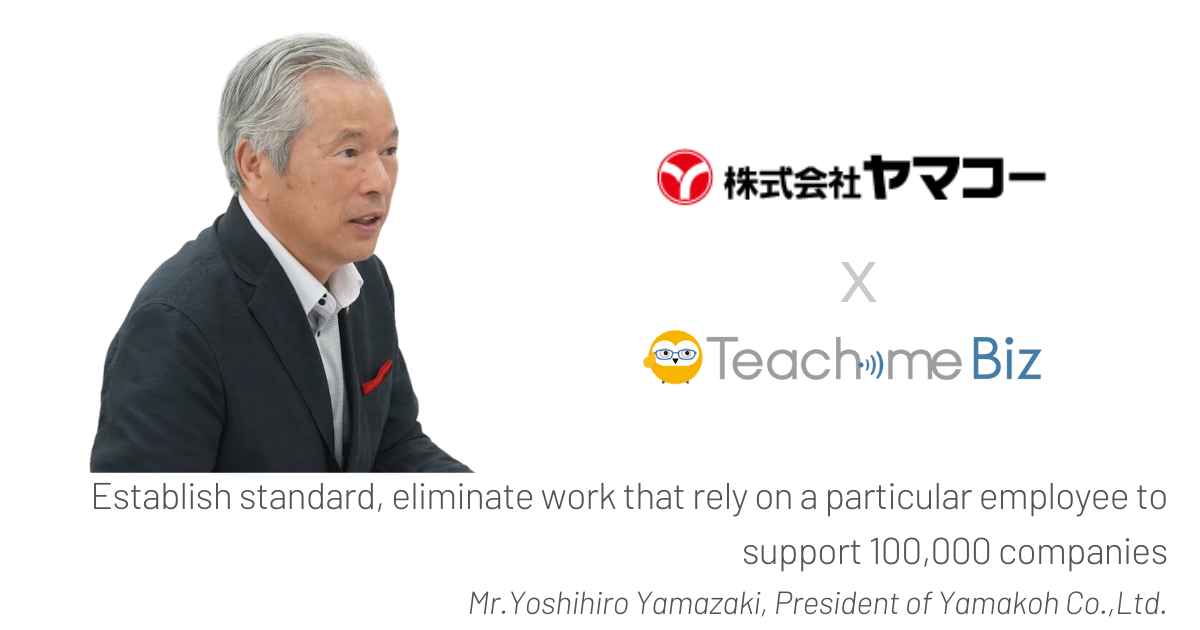 Establish standard, eliminate work that rely on a particular employee to support 100,000 companies
| | |
| --- | --- |
| Purpose | Eliminate the operations that only one person knows how to do |
| Issue | Unbalanced workload, amount of knowledge in Sales Department and Production Department |
| Result | Format of procedure manuals are unified and work quality are standardized |
Corrugated plastic boxes receive a great attention not only because it has higher durability and processability compared to corrugated paper cartons but from Sustainable Development Goals' (SDGs) perspective, it can also be recycled and reused.  Yamakoh Co.,Ltd. is proud to have achieved being the original producer and sales company in this market with over 100K customers. Also, the company established a sales route that enables customizable small lot purchases through online shopping. The company is also a pioneer in building EC site channel, which is currently the mainstream in corrugated plastic box business, and received the "Kansai IT Top 100" Corporate Excellence Award in 2015. In 2017, the company was selected as one of the "Top 100 SMEs with an Excellence IT Management" by the Ministry of Economic, Trade and Industry. 
On the other hand, allowing the customized-small lot order leads to more complexion in production and sales operation. Improving those operations' efficiency and eliminating the dependence on a single employee are the long-lasting issues to be solved. That is when Teachme Biz was brought into the company in spring of 2020. Led by Sales and Production departments, followed by General Affairs, Production Control, Procurement, Quality Assurance, and Design departments. All 7 departments are using Teachme Biz and realizing its effectiveness in resolving the issues.
This time we had an opportunity to talk to Mr.Yoshihiro Yamazaki, President of  Yamakoh Co.,Ltd., Miss Yukiko Kotake, Section Manager of Sales Department, Mr.Tetsuro Ishihara, Chief of Production Department and Teachme Biz Project Leader, Mr.Masahiro Hasegawa, Procurement Department/Quality Assurance Office and Teachme Biz Sub Leader regarding examples of using Teachme Biz in each department and the results.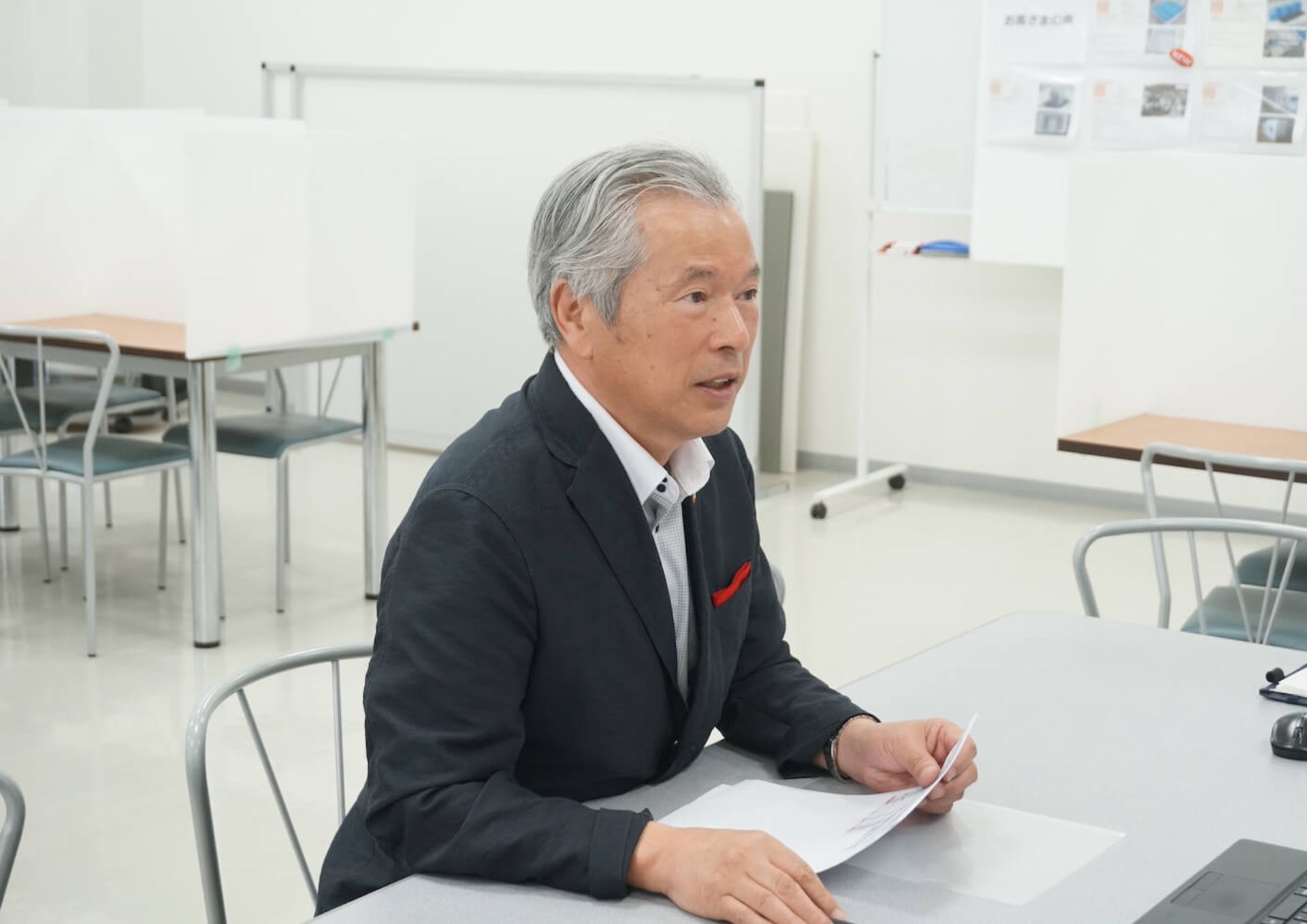 Mr.Yoshihiro Yamazaki, President of Yamakoh Co.,Ltd.
As the business grows, work relying on a specific person becomes an issue.
―――What brought you to start the corrugated plastic box business?
President Yamazaki : Our company was originally a packaging-material wholesale company with corrugated paper cardboard having the biggest portion among our products. However, in the corrugated cardboard industry, so-called "Red Ocean", with the continuing price competition, elevating sales efficiency is tough. During such time, we came across the corrugated plastic carton in around 1995. We can make use of the know-how of paper cardboard, and it can also be reused many times without having to throw it away. This was also right after the Great Hanshin-awaji Earthquake during the time said to be the lost 10 year after the collapse of the bubble economy. It is an insight from our management that corrugated plastic cartons with returnable and reusable features would match the trend of the world.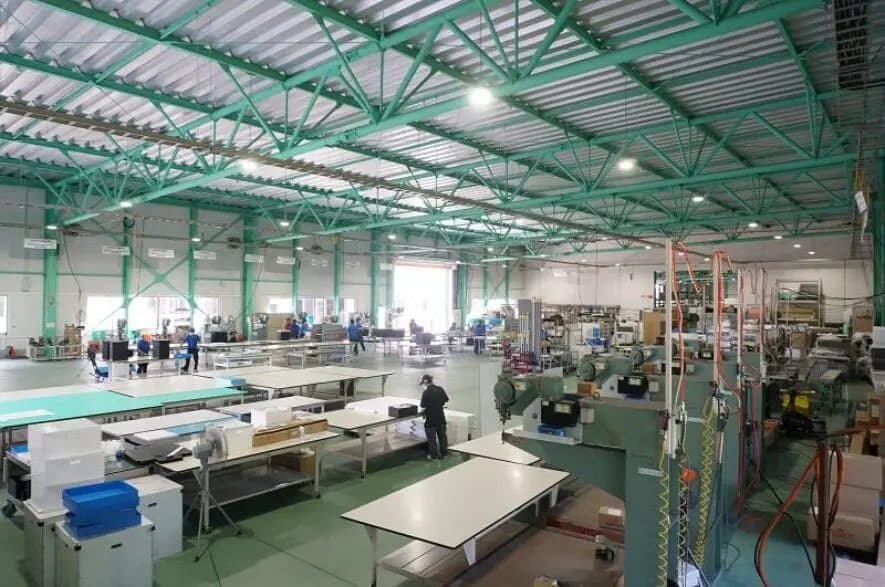 ―――We heard you were the first mover in the online selling 
President Yamazaki : To be honest, when we first started the corrugated plastic box business, it was not going well as planned. We started selling online out of desperation. It had never been in our mind before. Then as it turned out, after that our online orders kept growing, thanks to the world trend. Our business grew to the level where we managed to get a 27,100 sq.m. piece of land in Ujitawara Industrial Park in the South of Tokyo, and built our own factory specially for producing corrugated plastic boxes in 2007. At present, the volume of corrugated plastic boxes accounts for 95% of total sales, in which more than 90% are orders from the online channel.
However, as our business expands, new issues appear. One of them is that there is work that only one specific employee can do. At that time, we got to know Teachme Biz, a service which can solve the issue. So, we started considering using the service.
We experienced how easy it is to use and to make manuals from the Trial.
―――What were the main reasons to go for Teachme Biz?
Mr.Ishihara : I had a chance to see a document created by Teachme Biz. Back then I experienced how easy to understand the document is and how effective it is with my own eyes. Also, we received feedback from many employees after the Free Trial that it is easy to use and easy to make manuals. Those are the reasons for our decision to go for Teachme Biz.
―――Was there any struggle introducing Teachme Biz to the company?
Ishihara : In the past, each department used various formats such as Excel, Words, etc. to make manuals. Each section has their own preference, so it took a bit of time to unify the format. But after we started using Teachme Biz, the sense within the company instantly became one.
Start making manuals from work that "only this particular person can do"
―――What kind of manual do you make? 
Mr.Hasegawa : There were many machineries in our production lines that only a specific staff knew how to operate. First thing we did was to make operation manuals of those machines so anyone can control them. Operating a machine is a dangerous job, being able to explain where to put your hands, how to move, how your posture should be etc. through a video does help a lot.
Also, in the past, we inspected products relying on staff's personal intuition. So we reviewed that system, clarified where and what they needed to be checked and made it into a manual. We started to build a system that even if the person in charge is absent, there would be no effect to the materials procurement by making a procedure for material procurement task as well.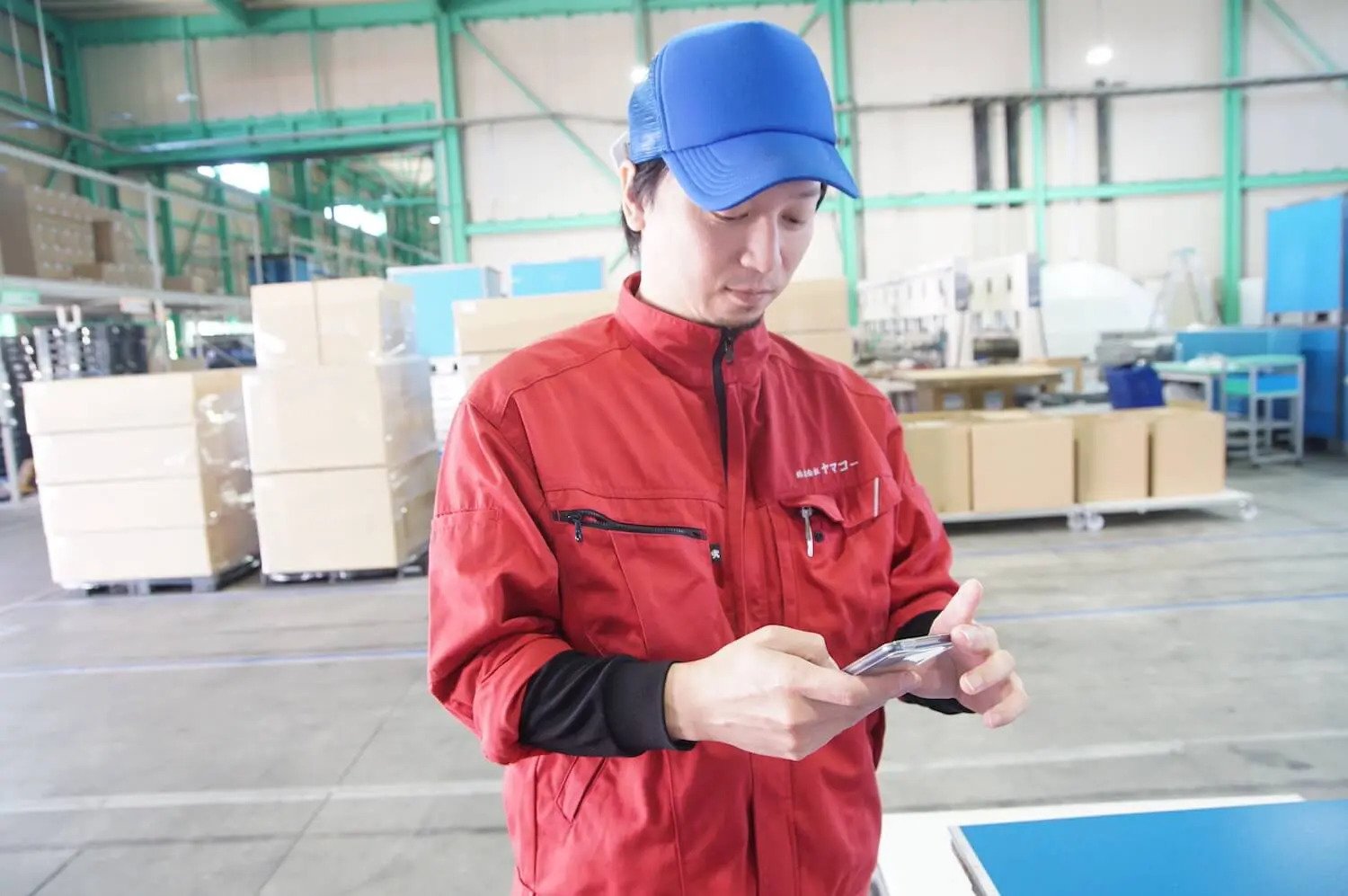 We can check immediately via a smartphone even while on site.
Miss Kotake :  In the Sales Department, we also make manuals starting from the tasks that only one person can do. For example, there are different small details of how to issue invoices or bills for each customer. Up until now, only the staff in charge of each customer knew how to do it. But since we turned all procedures into manuals, anyone who is available can do the job which allows us to control the fluctuation of workload.  
We used to have only 1 person in charge of taking online orders from EC sites like Amazon etc. When the staff took a day off, there was no one who could deal with the orders. So, we used Teachme Biz to make a procedure explaining the workflow. Now anyone can do the work in her place.
In fact, just the other day both the person in charge of EC and the one supporting their work were on holiday. Back then I had to deal with the orders using the procedure. I was in a situation where I did not know anything, the only thing I could depend on was the manual. But it turned out that I could do it just fine. I experienced it myself that the manual was very easy to understand.
Ishihara : A non-work-related manual that is unexpectedly often used is a manual of how to lock the door. I heard that sometimes as the last one to leave the office and have no idea how to lock the door, and calling someone to ask does not feel right, this manual has been saving many people.
Making manuals with joy, feeling like a YouTuber.
―――How did you feel about making manuals?
Hasegawa : There is hardly any chance to take a video of yourself by yourself. But when you have to take a work procedure video, setting your smartphone on the tripod, and taking a video of you doing your work, it sort of feels like a YouTuber (laugh). When someone walks past during the filming, (I'm quite shy) but I am enjoying it. 
Koike : Until recently, we used Word, Excel, and for me personally as I was formerly in charge of design, I also used CAD to make manuals. But with Teachme Biz, inserting a screenshot is also easy, the layout also does not collapse. Inserting text to an image or making the points you want people to focus on stand out is also simple. I am even using it to edit photos instead of photo editing software.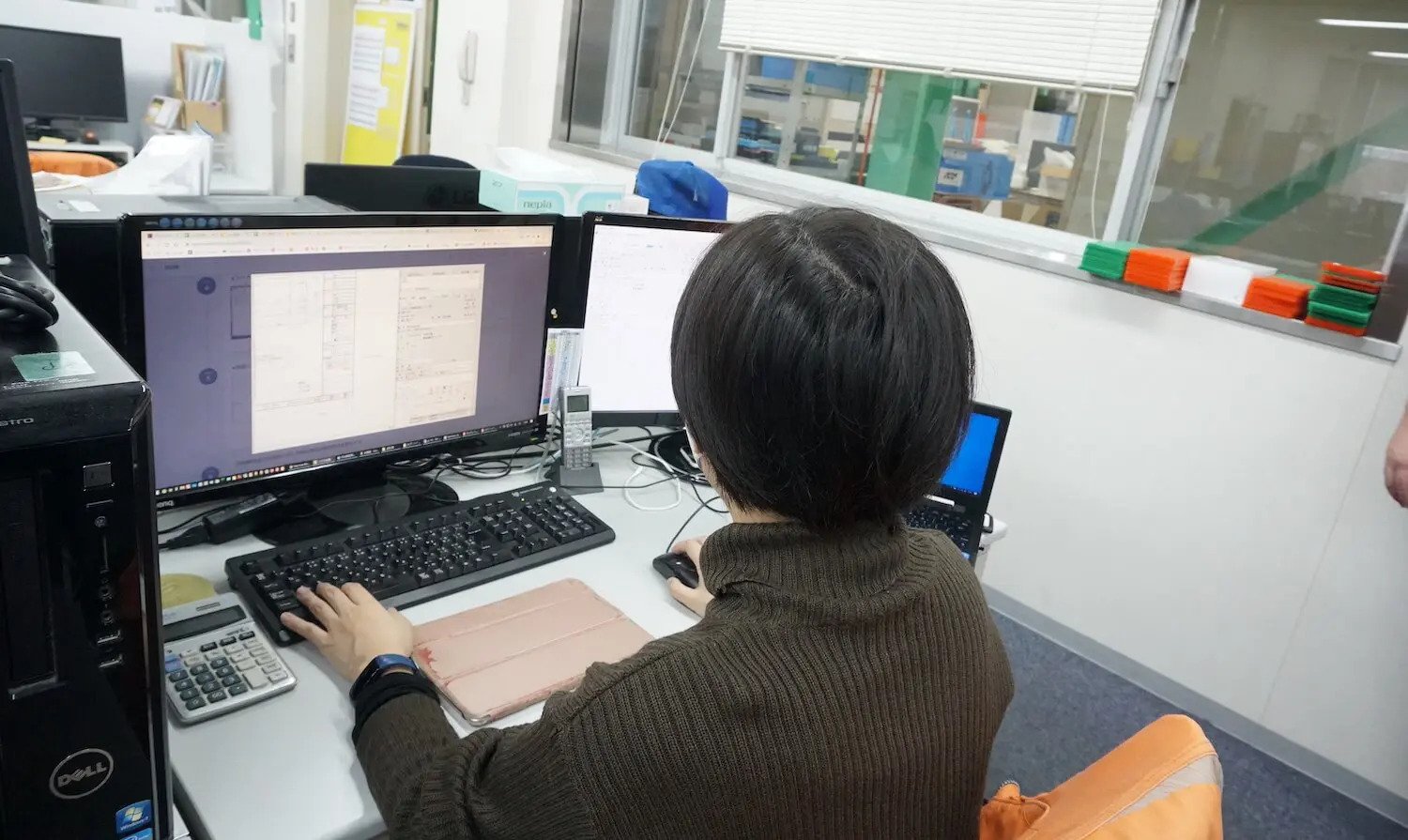 Can also make it on a computer in a blink of an eye.
Also effective in training staff with disabilities 
―――We heard that your company is also actively working on hiring people with disabilities. 
President Yamazaki : Yes. I think that as long as people in the area are working for us, we have the responsibility to hire them without discrimination. In 2019,  received a national award for being an excellent enterprise to hire people with disabilities (JEED).
Now we have 1 employee with physical disability, 3 employees with a mental illness, and 4 employees with intellectual disability working with us. If we put our brains together, we can build a workplace where even people with special needs can work. I plan to keep developing them to help growing profits together, to play an active part as a valuable member in the company.
―――How do employees with disabilities use Teachme Biz? 
Ishihara : Right now they use it to check work procedures, cautions, or descriptions of how to operate the machines etc. 
Ultimately, I want to put QR code in places such as design drawings etc., so staff can access the procedures easily to check necessary cautions for production anytime. We want to establish an environment where staff can check procedures any time they want without asking people around, while maintaining a certain level of communication. In the production site, there are people who exclusively engage in a specific work and people who are entrusted with a specific task. Those are the specialists in the fields who understand the tasks more than anyone. Ideally, later on I want them to make procedure manuals too. Now we have started the challenge bit by bit. 
One of the reasons that we picked Teachme Biz is because it allows anyone to be able to operate the machines easily. It has nothing to do with having disabilities or not. We want any employee who wants to make a manual to keep making it. 
―――Lastly, what is your future vision for the business? 
President Yamazaki : We declared SDGs as our management pillar from April 2020. Turning such a minor corrugated plastic carton to be more and more major in society means that we are contributing to solving issues such as global warming. I aim to develop the company so one day people will say, "when it comes to corrugated plastic boxes, it has got to be Yamakoh". My dream is to build franchise, increase allies nationwide to spread corrugated plastic boxes. 
In order to make it come true, people involved with the business have to feel their own improvement through work. I want to create a work environment that can fulfill their self-actualization. To make it happen, I think Teachme Biz is crucial for perfecting such an environment.
| | |
| --- | --- |
| Company Name | Yamakoh Co.,Ltd. |
| Website | |
| Address | Kyoto, Japan |
| Business type | Manufacturer and distributor of corrugated plastic boxes |
Teachme Biz - Visual SOP Management Platform that simplifies paper-based manuals, Work Instruction, Workflow or SOP into images and videos in step by step approach (Visual-based). You can create, edit and manage working procedure by all devices including mobile phone, tablet and PC. No more frustrating on unclear working instructions in your team. Staff-friendly manuals is far more effective and helps the user actually achieve a task.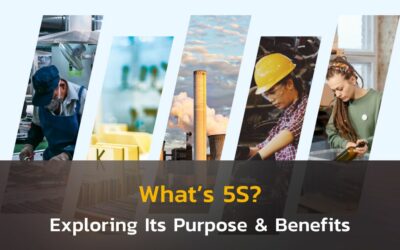 The 5S serves as a cornerstone for establishing a conducive work environment, encompassing five...