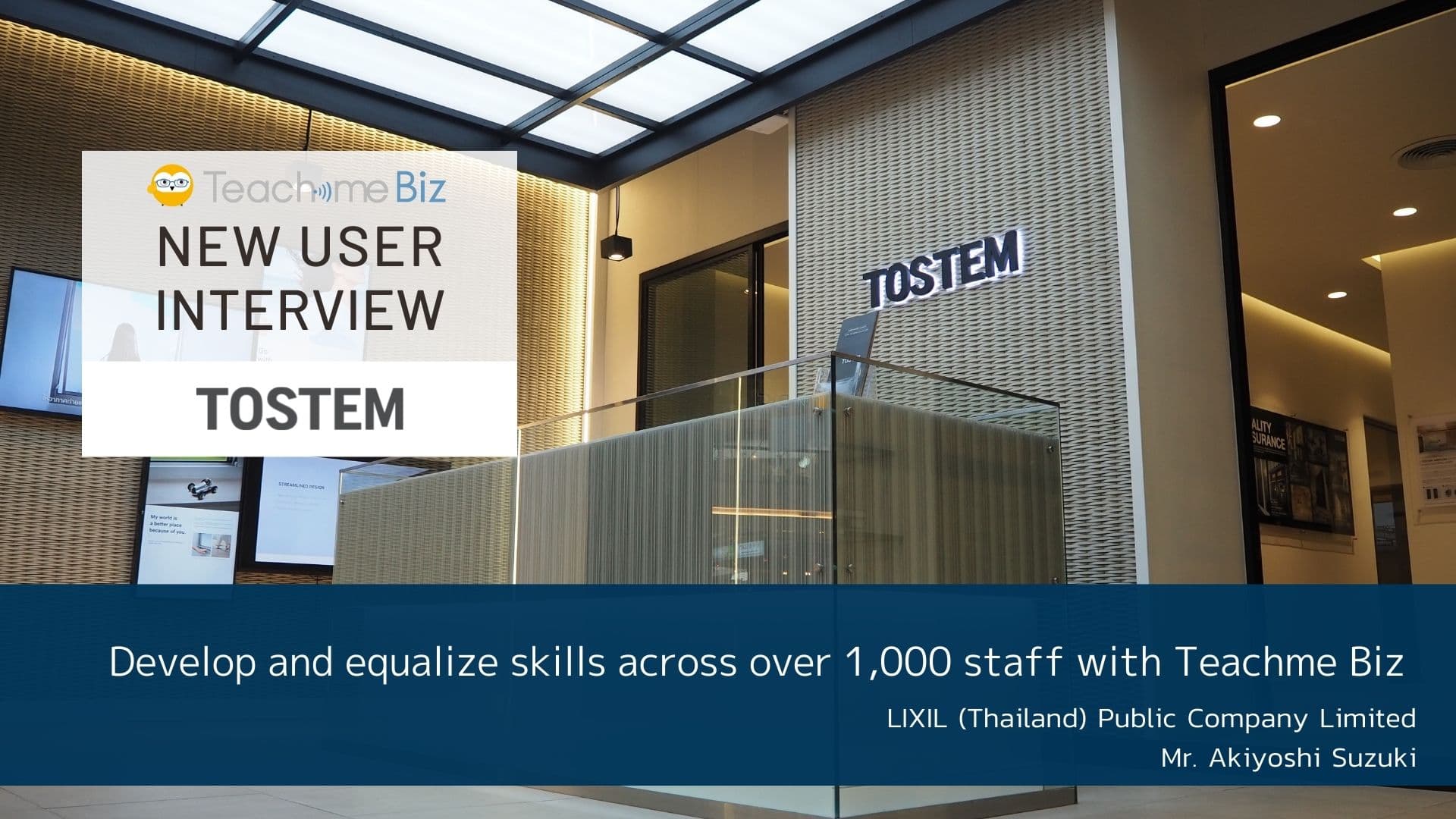 LIXIL (Thailand) Public Company Limited
Develop and equalize skills across over 1,000 staff with Teachme Biz 
■ Agency's work quality directly links to our product's quality
― How​ did you start introducing Teachme Biz into the company? 
Mr. Suzuki: What we mainly do in the Thai Market is manufacturing and selling windows as well as window sashes for buildings. Our business model is selling 50% completed products from our factory to agencies. Then the agencies' staff will assemble/install the goods on site. In other words, the skills of agencies' staff leave a big effect on our end users' impression towards our product's quality. Our factory really pays attention to the product accuracy in a unit smaller than millimeter. Nevertheless, trying to make high quality products will not matter at all if the products were assembled and installed sloppily. Our products will end up being no different than others. 
In the past, we tried to hand out paper manuals to the agencies for training and arranging training programmes to train them directly to solve the problem. However, we faced some issues such as even if they could perform correctly during the training, they would forget when they were on site. Eventually, we did not see any significant results from the solution. Back then what came into my mind was "a picture and video manual of workflow" and "a tool that staff can look at any time they need". While I was searching for a perfect tool, our IT staff introduced Teachme Biz to me. 
■ No need of skill and experience! Jump to where you want to look. 
―What made you choose Teachme Biz over other service providers?
Mr. Suzuki: The main reason is because it is easy to use. Actually, around 5 years ago, we spent our budget on hiring a production studio to make training videos for staff to watch during training. But once the time had gone by, staff started to forget the correct way to do the job. Therefore, it was not a very efficient way. 
On top of that, it was extremely hard to use as we could not go back to the part where we wanted to see (the part we did not understand). A video surely makes it easy to visually understand the flow of work. But on the other hand, we encountered some problems such as the fact that we could not go back to where we wanted to see, or we could not grasp small details from it. With Teachme Biz, we can check work procedures by Slides in the manual. Furthermore, we can insert video clips where it is important. We feel that it is very easy to use and very flexible. We can freely combine the main picture explanations with videos.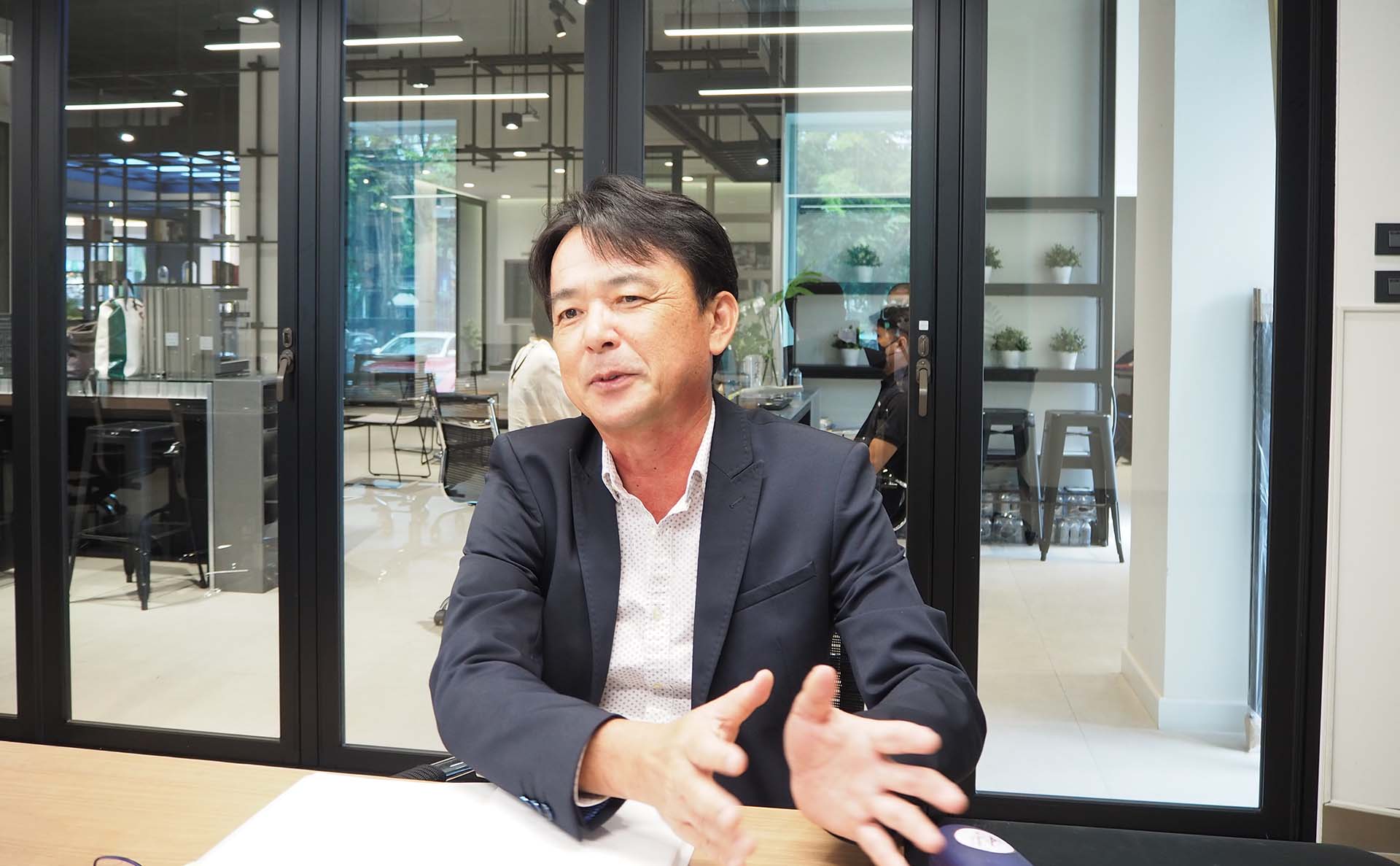 ―How many agency staff are there working on site? 
Mr. Suzuki: There are over 1,000 agency staff doing the business with us. Each of them possesses a different level of skill and experience ranging from a beginner to an expert. Playing the same video at the same speed to people from such different backgrounds ended up with them not understanding the content at the same level. I can imagine that with Teachme Biz, the beginners can learn the work procedures at their own pace and the experts can skip right to where they want to confirm. 
Moreover, Thailand is a country where there is a large amount of workforce from neighbouring countries such as Laos and Cambodia, who are struggling to understand the paper manuals written in Thai or English. Using only text and photo-based explanations would make it hard to understand. This can be resolved by showing them videos to let them understand visually. We want to use Teachme Biz to overcome this language barrier. 
■ Deepen the understanding and improve what they can learn during training to reduce claims
―What are your thoughts after using Teachme Biz? 
Mr. Suzuki: I am in charge of checking manuals that are created. Staff in our company are actually the ones who use Teachme Biz. From what I see, they seem to master the functions needed for the job and how to use it quickly. They also learned how to make manuals by themselves. I can feel that it is very easy to use. 
According to a report of a staff in charge of training, the trainees' learning speed and understanding has improved, and the mistakes at work have dropped which is the result of us switching from the conventional way of training to Teachme Biz.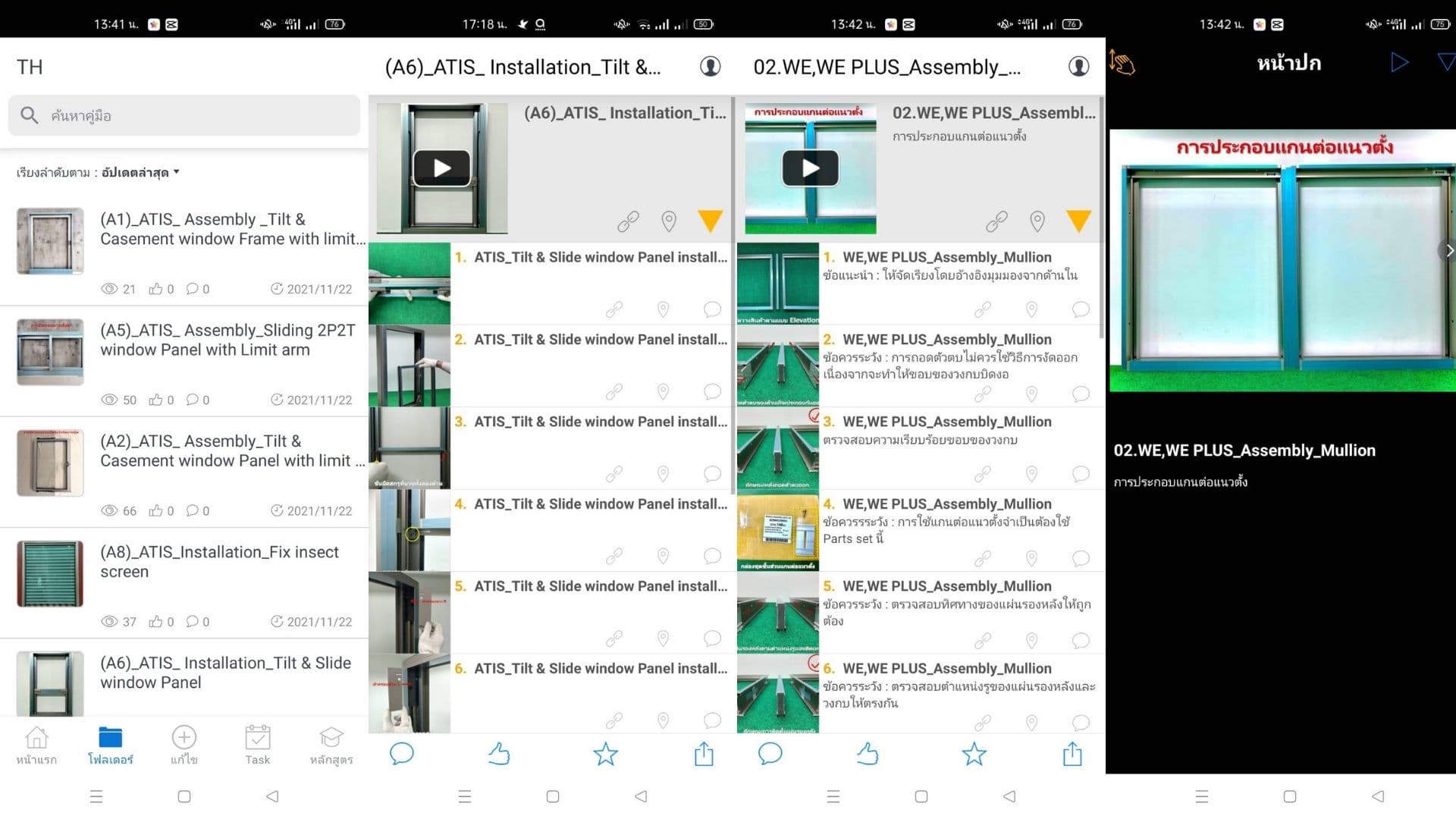 Sample SOP from Lixil Thailand
Admin Installation Team・Mr. Unnop Chinsen: Originally, we had this strict training programme called TCD (Tostem Certify Dealer) for the agencies. On top of basic training, we would observe and evaluate each staff working on site. The training would continue until the staff can complete their work according to the standard. 
We have been using Teachme Biz for around 2 years. Recently, I can feel that training efficiency has improved, for instance, staff's understanding and accuracy of each work have increased. At the same time, I came to understand that the result of training does not show instantly. It needs repeating practice to take root. 
Apart from using Teachme Biz for training, we also send QR codes of Teachme Biz's assembly manuals to agencies' staff to go over what they have learnt periodically. We get feedback from them that the mistakes made on site have declined, claims have decreased, the training is simple and easy to understand unlike other companies' training and so on. We can gradually see the effects of using Teachme Biz on agencies' staff. 
We still use paper manuals now but surely there are some parts that are hard to understand. So, we actively insert videos into manuals created by Teachme Biz and share them to the staff. Online training is becoming a main method from now but it does not mean that we will completely eliminate group training. We are changing the way we hold group training from "a must" to "only do it when needed". We plan to adapt the method based on situations as in some cases, some agencies with a lot of international staff, it is more effective to train on site. 
In addition to training, I think that we can use Teachme Biz in other situations such as in human resources development within the company or in improving efficiency of information sharing etc. If we use Teachme Biz to develop our employees at each department, there will be advantages for both trainers and trainees. Staff can train and improve their skills during their own time. By doing so, the knowledge and techniques built up inside the company can be transferred across the organization. We also want to share problems that occurred on site together with the solutions through Teachme Biz, so that all members can understand the situation at a glance. We expect that this will lead to preventing the same problems from recurring and that it will also allow us to accumulate the know-how throughout the company.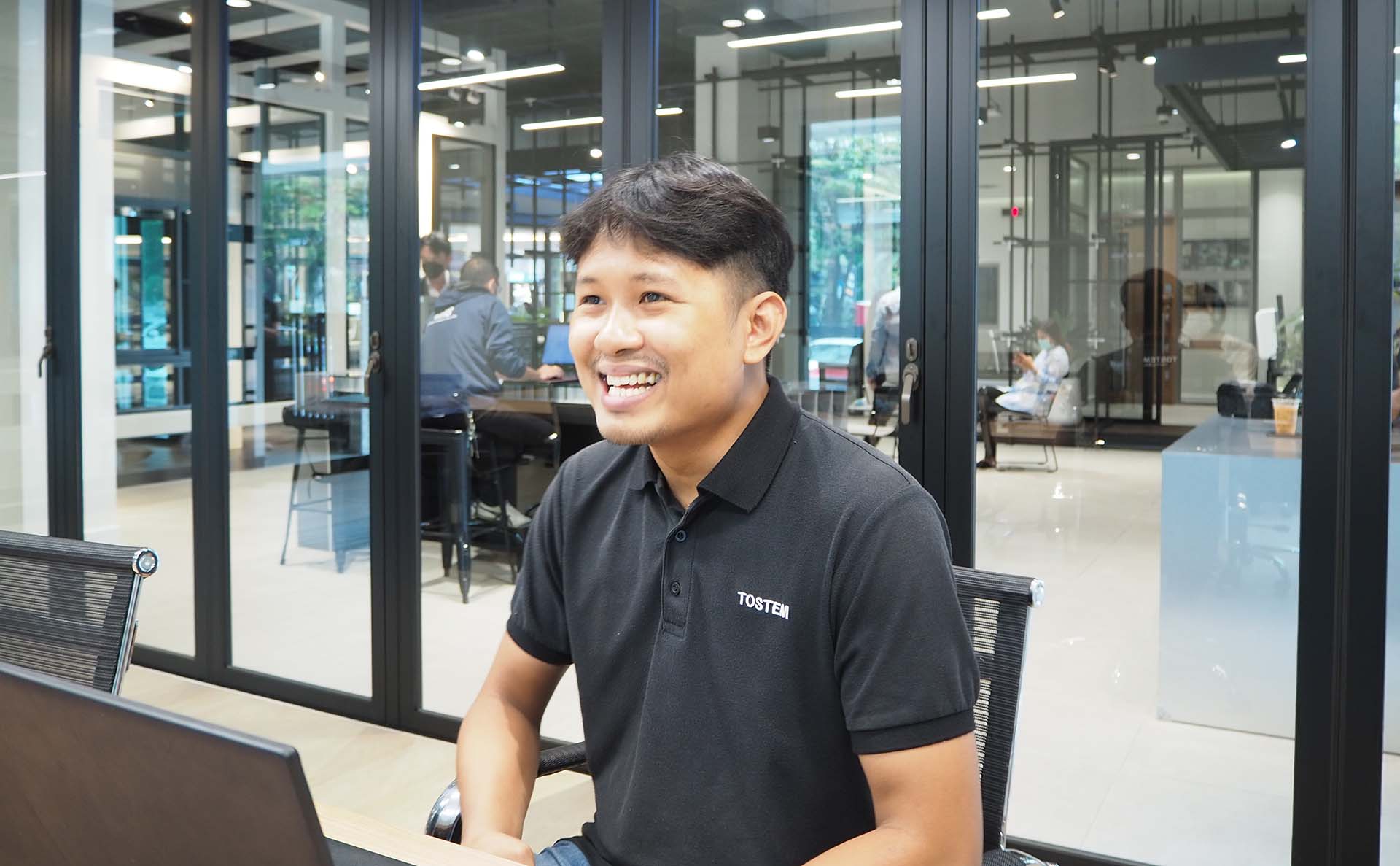 ■ Make a habit of opening Teachme Biz by just one tap on a smartphone
―Is there a plan on how to use Teachme Biz from now on? 
Mr. Suzuki: A recent challenge we have is how to make it a natural habit among the agencies to use Teachme Biz's manuals. We started to gradually see the results linked to training. But on the other hand, it concerns us how the viewing frequency of each manual has not grown. We reckon that when the agency wants to access a manual, they have to go to our company's portal site and input the account name and password. We think this step is troublesome for them. So, we are searching for ways for them to feel that a manual is something they can access easily on their smartphones. For example, when we do the training, we put a shortcut on Home Screen so they can use it on their smartphones right away. 
Apart from Thailand, we are also planning to expand the usage of Teachme Biz's manuals to the Philippines, Indonesia, Vietnam, and India as well. We want to create an environment for agencies in each country to be able to see the work manuals based on the points that went well and the points that did not work in Thailand. 

Company Name

LIXIL (Thailand) Public Company Limited

Website

https://lixil.tostem.co.th/

Address

1/6 Moo 1, Phaholyothin Road, Km. 32, Klongnueng, Klongluang, Pathumthani

Staffs

–

Business type

Manufacturing

Details

Aluminium OEM parts
Aluminium extrusion bars
Aluminium windows and doors

Usage method

Work productivity
Teachme Biz - Visual SOP Management Platform that simplifies paper-based manuals, Work Instruction, Workflow or SOP into images and videos in step by step approach (Visual-based). You can create, edit and manage working procedure by all devices including mobile phone, tablet and PC. No more frustrating on unclear working instructions in your team. Staff-friendly manuals is far more effective and helps the user actually achieve a task.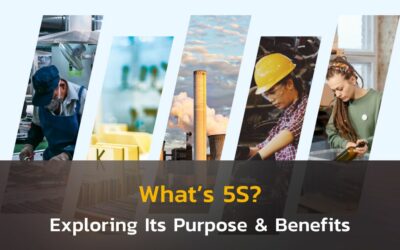 The 5S serves as a cornerstone for establishing a conducive work environment, encompassing five...