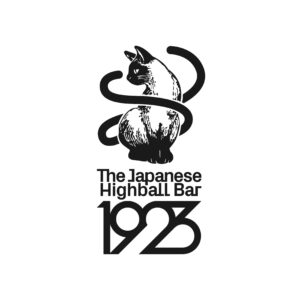 BEING BEYOND BORDERS CO., LTD.
Choose Teachme Biz to convey the authentic taste of highball, prepare employees with training function
Today Teachme Biz had an opportunity to talk with Mr. Suzuki – Chief Operating Officer and Mr. Nattachai – Head Chef from BEING BEYOND BORDERS CO., LTD., who will share their stories about spreading highball-drinking culture, a popular Japanese alcoholic drink, in Asia. How do they deliver the same taste with authentic Japanese quality to people in Asia? Let's hear their stories together.
The first highball bar in Bangkok
Mr. Suzuki: We are a company founded to do a business in highball bar in Asia. We chose to open our first branch "The Japanese Highball Bar 1923 Krung Thep" in Bangkok , Thailand. As the name suggests, the bar focuses on highball drinks, and the food is also served with the theme of what can be enjoyed with highballs.
Choose Teachme Biz to deliver "the authentic highball"
Mr. Suzuki: The most important thing in spreading highball culture abroad is the "stable quality". No matter who makes it, the quality will meet the standard. The flavor is the same in every glass. In the past, we have exported highballs to other countries and served at the local bars, but we felt that we could not offer "the real taste of highballs" we expected. It is tough to make the authentic highballs for the local staff even though we have the ingredients and recipes because none of the staff has seen or tasted really tasty highballs before.  In addition, turnover rates in restaurants are relatively high. Therefore, even if we train the staff once, it is difficult for the staff to reach and maintain the standard. That leads us to think that opening our own bar might be the fastest way to let people know the authentic taste, and while we were thinking how we could stabilize and standardize the quality, we came to know Teachme Biz.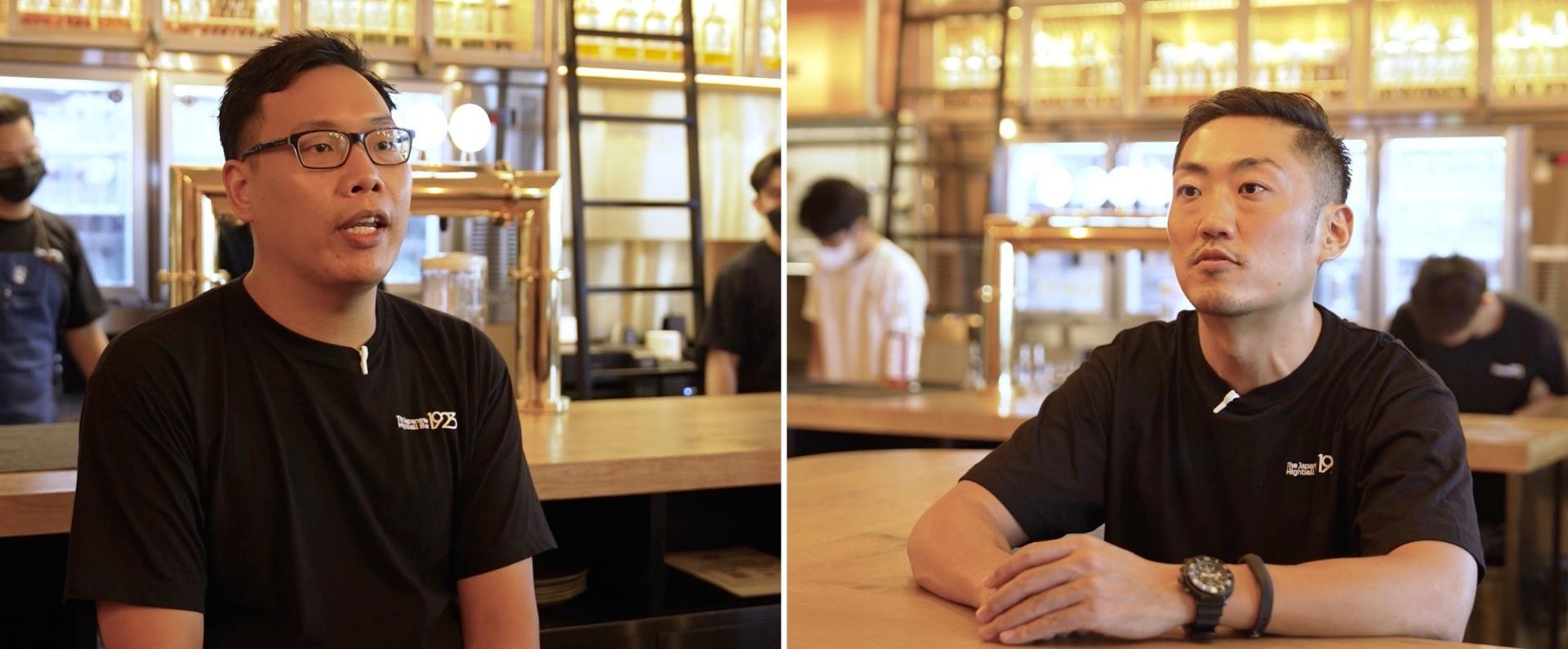 (Left) Mr. Nattachai Wetsoonthorn (Max), Head Chef | (Right) Mr. Shoichi Suzuki, Chief Operating Officer
Visual Communicating through pictures instead of words, how convenient it is

Mr. Suzuki: It is my first time doing business in Thailand. Based on my experience, it is difficult to accurately convey things using only words, so I found Teachme Biz is very appealing since it can visually convey information. Since both images and videos can be included in the manuals, those could visually compensate for parts that cannot be explained in words. Especially when we explain a task filled with a lot of details such as how to make highballs. That is why we use a lot of videos.
We use 3 languages which are English, Japanese, and Thai, for communication in our bar with English as the main one. But when we translate from one language to another, there are times some subtle details that are hard to put into words. Teachme Biz is an indispensable tool for ensuring that all staff understands the correct way to make the highballs and guarantee the quality of the highballs. 

Mr.Nattachai: My mission here is to set up standards for the bar. I used to make paper-based manuals at my previous job, communicating with staff verbally or by writing in notebooks.
But here we use Teachme Biz to create manuals. We can even put pictures and video clips in the manuals to demonstrate work procedures step by step which is so much more convenient than before. If we have to make work standards in the form of paper-based manuals, it will definitely create confusion for staff because everyone has different levels of understanding.   
Mr. Suzuki: In addition to easy operation, I was also attracted by the convenience of having multiple interfaces, such as being able to work from a smartphone anytime, anywhere, and being able to operate from a PC when I wanted to take my time creating a manual.
Mr.Nattachai: If you forgot the procedures of work, you could look at the manuals from your phone to check the step you want and follow that procedure right there.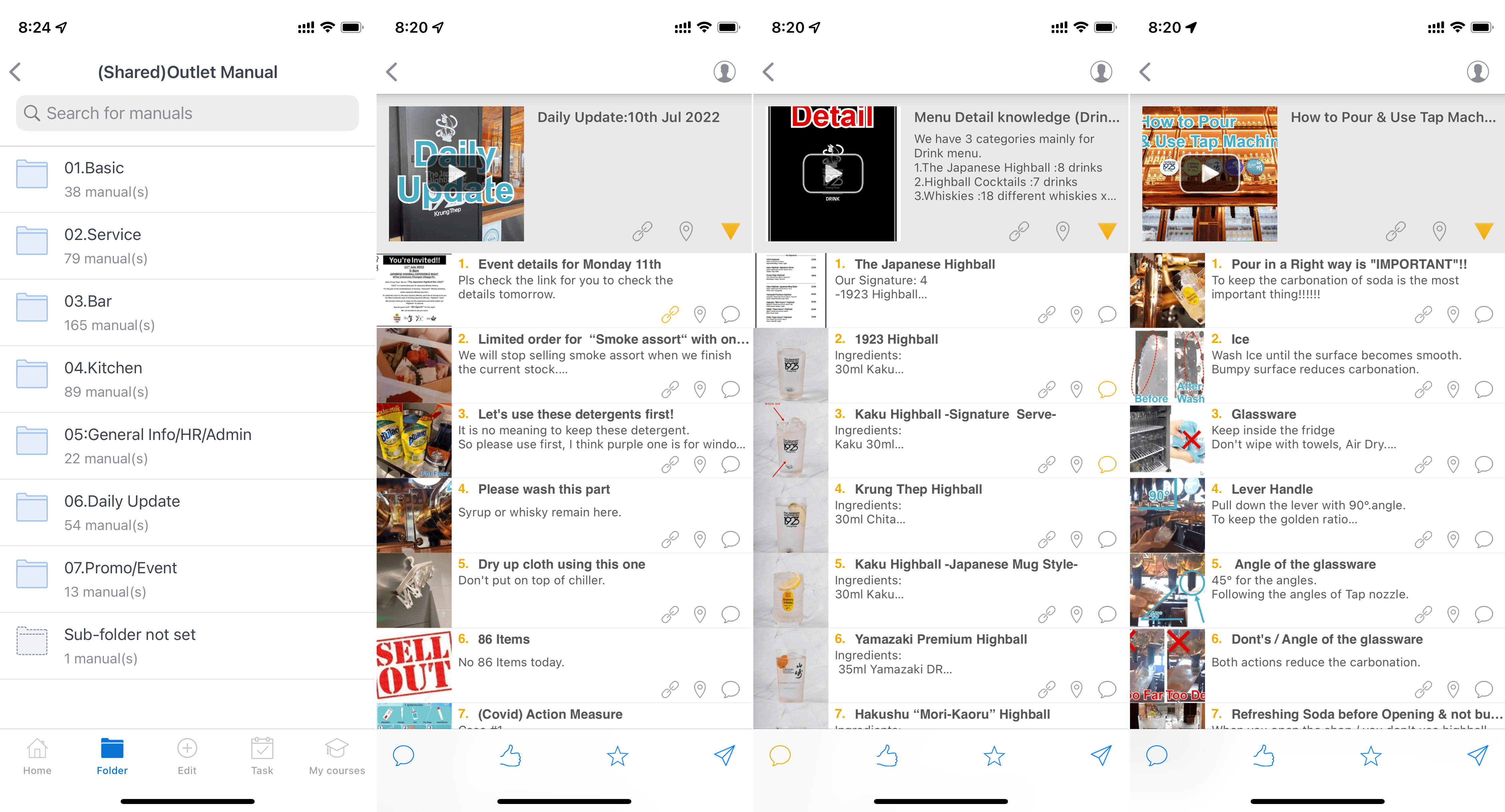 Samples of The Japanese Highball Bar 1923 Krung Thep's SOP (Click to enlarge)

Cover all your needs

Mr.Nattachai: We currently use Teachme Biz for 1) Setting up standards of all departments' work procedures from welcoming customers, placing orders, to cleaning, 2) Informing daily updates of the bar, and 3) Digitizing each recipes. Teachme Biz can surely cover all of our needs..
Enhance the efficiency of Employee Training with Teachme Biz

Mr. Suzuki: The difficult thing about preparing to open a new restaurant is staff training. First, we have to teach them the process of providing service when opening the store. Each staff has a different level of language proficiency but we need to train them so they can give service with the same standard. I always keep it in mind to make it easiest to understand and least complicated. And here is where Teachme Biz plays a big part.
Newly hired staff are first assigned to a Teachme Biz training course to learn about the company, restaurant concept, menu, recipes, etc. so that they are all at the same level of knowledge. After that, they begin onsite training. When there is something they do not understand, I will let them find out the answer from work procedures on Teachme Biz first before asking others. Of course, some questions take just a moment to answer but some others may require longer time to explain when it comes to the detailed workflow. And in the restaurant business, time is precious. With Teachme Biz, everyone can look for things they want to know by themselves whenever they want. I experienced it myself that Teachme Biz is valuable to our restaurant.
Mr.Nattachai: Let's say, if 10 staff members do not understand a certain procedure, and we do not have any materials for them to learn by themselves, they will come to ask us 10 questions, that means we have to answer the same question 10 times. Having Teachme Biz helps eliminating that whole process.
Mr. Suzuki: Since the opening of the bar up until now, quite many employees have come and gone, which is very different from Japan. But we have recorded the details of each and every process in Teachme Biz, so we can pass the work on to  new employees without any struggles.
Free workshop for those interested in creating a manual
No worries about security because of the various settings

Mr. Suzuki: At our restaurant, we let staff use Teachme Biz from their own smartphones. I was worried about security in the beginning since recipes, which is the heart of the restaurant, are also there. However, knowing that we can set access authorization in detail, which can be viewed by every staff member, which can be viewed only by managers, I feel reassured and I can continue sharing the manuals without any concerns. Also, when a staff member resigns, we can delete their account easily. No need to worry that the information will leak. That is another reason that puts my mind at ease.
Using Teachme Biz goes smoothly among employees. In the beginning, they made a manual by copying the manuals  I made. But now they can think and create it on their own. Teachme Biz's Customer Success Team supports us in  Japanese, Thai, and English. When our local staff has a question, they can ask for support right away. This is one of the attractive points of Teachme Biz.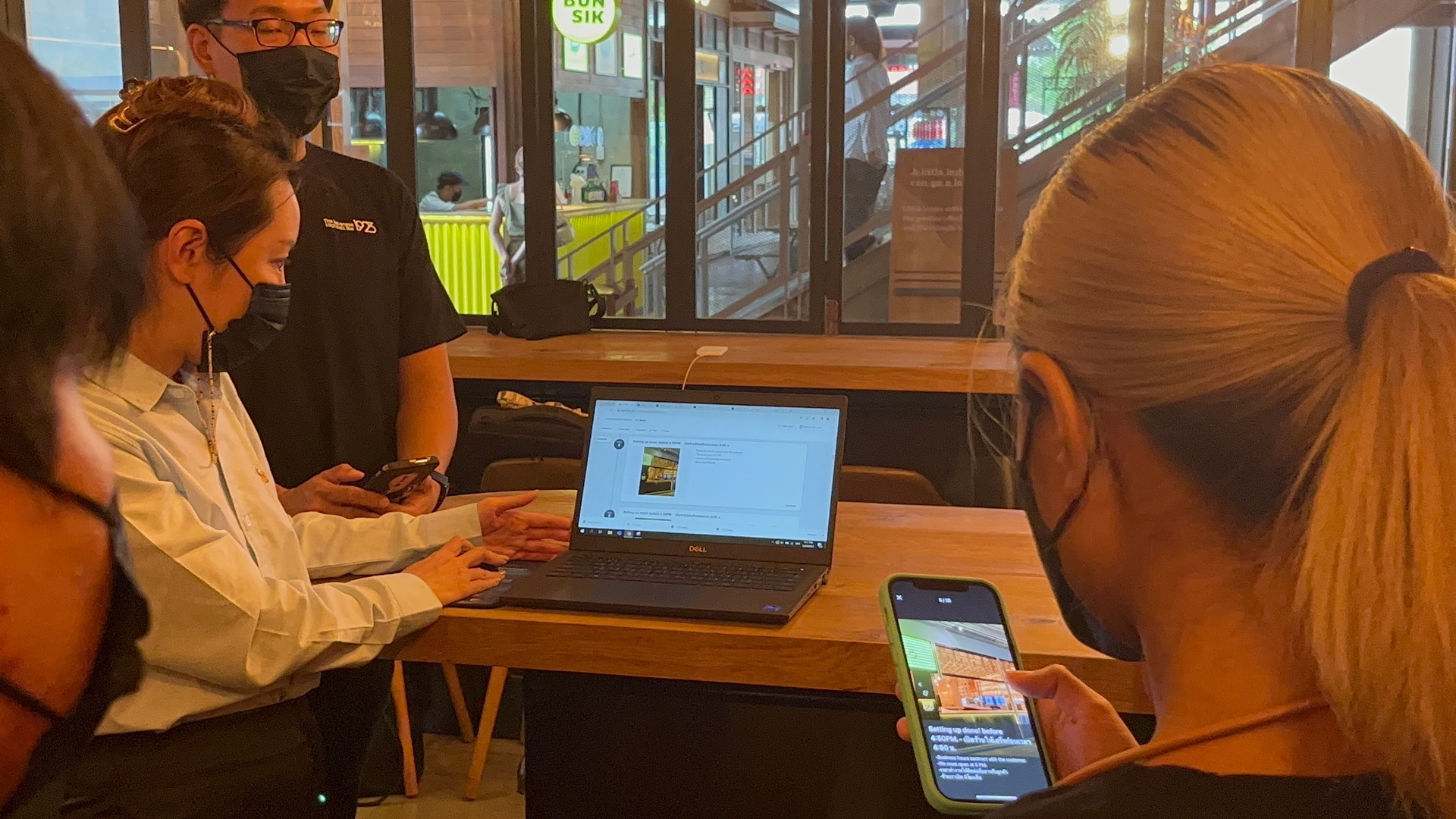 A meeting before closing the restaurant for the day at The Japanese Highball Bar 1923 Krung Thep

To the future expanding new branches 
Mr.Nattachai: We plan to keep expanding our bar to have more branches in the future to spread the authentic highball culture. Teachme Biz is our "textbook"   that will be used in every branch in the future. It is something we can call "Everyone Everywhere". We can provide the same standard of service, no matter who does, as we increase the number of branches.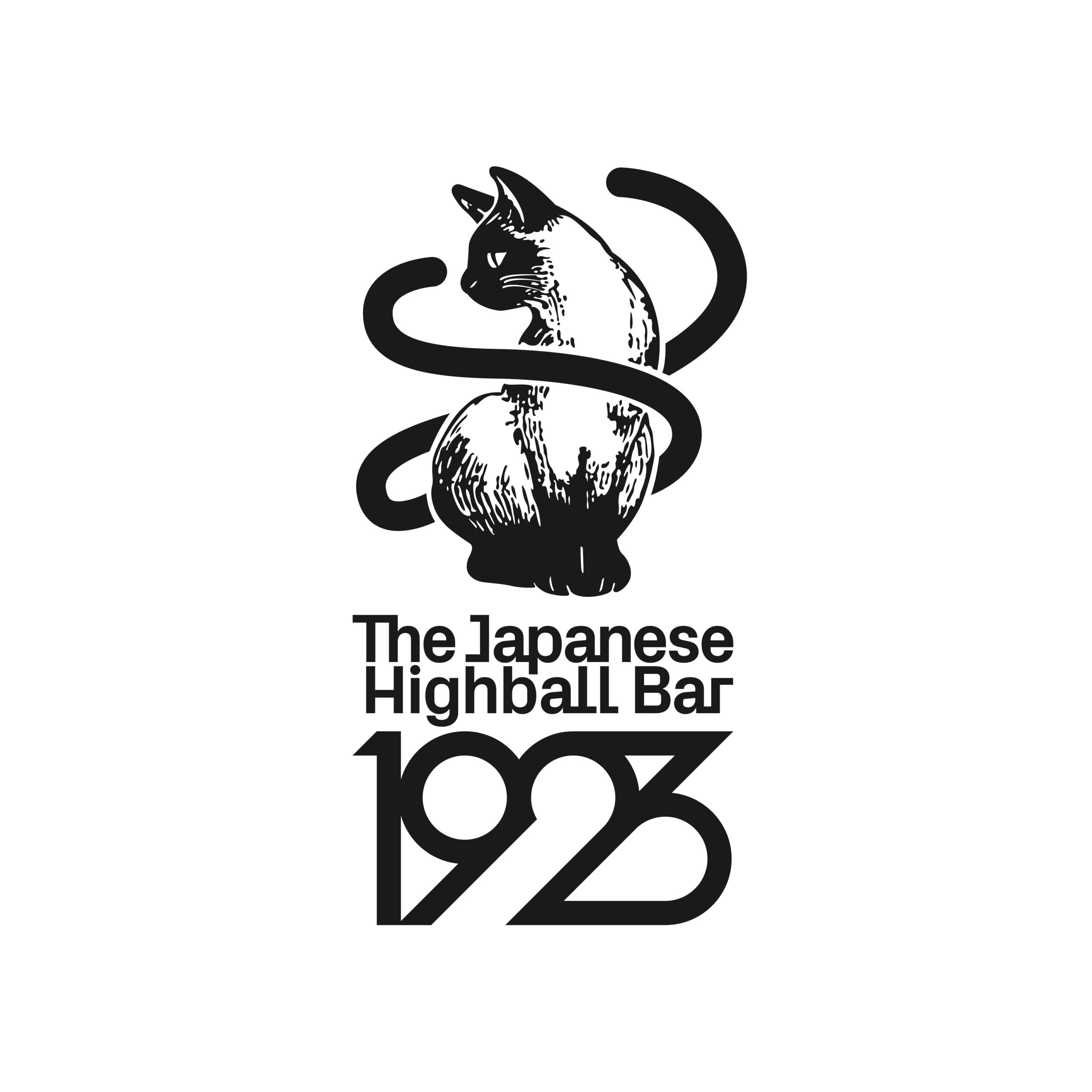 | | |
| --- | --- |
| ชื่อบริษัท | BEING BEYOND BORDERS CO., LTD. |
| เว็บไซต์ | |
| ที่อยู่ | 335 Thong Lo 17 Alley, Khlong Toei Nuea, Watthana, Bangkok 10110 |
| รายละเอียดทางธุรกิจ | Specialized Highball Bar, Restaurant |